Stay humble Claremont elementary schools, and be wary of the out-of-district underdogs
Standing in front of the stone sign that reads Claremont High School (with the S upside down), and cowers below the large buildings and exterior yards, you look at this unfamiliar place with wide eyes and shaking knees. This is insane, you think to yourself, how will you ever be able to memorize the entire building and find new friends?
This was your first time being in a CUSD building, let alone a Claremont school. The only time you had ever stepped foot in a room that was considered "CUSD property" was when you had to drop off your transcripts and form to transfer at the district office, and even then, the room wasn't nearly as big as this school.
This experience is a normal occurrence for out-of-district students that come from either Upland, Pomona, or even inner Claremont schools like Foothill Country Day. However, we are not talking about any inner-district schools, because us out-of-district transfer students are the underdogs in this situation. Sure, we didn't come from hippie schools that funded trips to Catalina Island or stay-away Astrocamps, but what we had was each other (and maybe our old tetherball courts).
I know what you're thinking— I went on three different trips during my elementary school experience! I stayed the night at a zoo and ended up actually adopting a lion for free, thanks to Claremont's great funding! I visited Catalina Island and joined a pack of sharks that mothered me like a child of their own! Well, Claremont kids, you want to know what I did during my Upland school experience? I was the queen of the kickball court everyday at lunch, thank you very much.
I would also like to reiterate that I'm not trashing my Magnolia roots. I grew up humbled compared to these Claremont kids that think Catalina trips are the norm. The only trip that was considered huge was our sixth grade mountain trip, where we woke up at six in the morning every day for three days just to look at stars and eat awful food that hurt my stomach because of the weird altitude. We didn't go on any stay away trips to the zoo or Greece, but we did become content with what we had… which may be something that Claremont kids may not have learned.
I remember the time when our PTA finally got enough money to replace the broken playground set that had a sliced slide and terrible monkey bars which might have started to rip off if you hung on for too long. Seeing that glorious yellow and green set that had two slides, a climbing part, and stairs that seemed enormous compared to our old plain gray one boosted the serotonin levels of my small four-foot elementary body. Did other Claremont kids have that experience, or were they used to getting new, PTA-funded slides every week? Actually, they probably were disappointed seeing a new playground set when they were expecting another Catalina trip…
Stay humble, my Claremont friends, and most importantly, never underestimate your out-of-district underdogs.
About the Contributor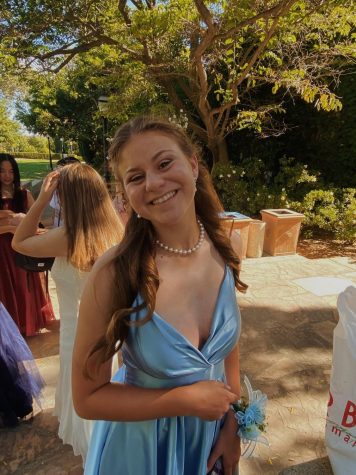 Casey Shoultz, Head Sports Editor
If you have explored Instagram in the vast few months, there is only one person that has continuously posted updates from their favorite musical artists...