Senior College List 2022
*GRADUATING SENIORS PLEASE NOTE
Not all graduating students will be featured on this page due to some students not responding to the senior survey.
*SURVEY PARTICIPANTS PLEASE NOTE
If surname was not provided or academic institution was not specified, the participant will not be featured on this list.
Community Colleges
Chaffey College
Lamier Taylor
Noah Morton Klein
Michael Daniel Sanchez
Harlie Jean Thomas
Emerald Aurora Kolb
Drew Mowbray
Alex Serrano

Citrus College
Arianna A. Sabaei
Kevin Fan Zhao
Larissa Vershum
Willow Kerchhoff
Briana Cortez
Mauricio Gomez
George Guedea
Ethan Thomas Ramos
Trinity R. Flores
Leyland Pacheco
Phillip Quintanar
Adrian Martinez
Cesar Sanchez
Kyle Abbott
Racquel Mia Allen
Angyalyk Emese Kantor
Mayra De La Rosa
Lauren Hesterly
Jaylene Alexa Munatones
Nathan Gaeta-Symonds
Adriana Michelle Sanchez
Lillian Marie Druger
Olson Grubb
Kelly Campbell
Zouheir Eido
Rozalyn Hagan
Emily Mace
Xiemena Marenco
Alexzander Prado
Connor Taquino
Ariana Baltazar
Luke Dcogg
Robert F. Allen
Katie Muldune
Adriana Cardoza
Angel Garfias
Emilio Gutierrez
Sean Tyler Segobia
Justin Duran
Antonio Washington II
Benjamin Antonio Derobles
Jaydin Mclemore
Nathan Christopher Gurrola
Joshua Fisher
Annette Rubio
Joshia Purcell
Gustavo Ramon Resendiz

Cypress College
Jessie Guenthart

Mount San Antonio College
Alejandro Antonio Miranda
Jocelyn Esquivias
Penelope Arely Romero
Sidney Sparks
Mason Weaver
James Escobar
Emmanuel Carlos Valencia-Aguirre
Jiselle Hernandez
Andrew Hasou
Darius Eaves
Elias Onate
Christian Fairman
Manh Sang Nguyen
Paulina Estrada
Astrid Duran
Claudia B. Jimenez-Gonzalez
Dylan Michael Macias
Alexander Lopez
Kennedi Robinson
Pasadena City College
Makayla Chiechi
Lucie Marquis-Lind
Wen-Yuan (Melody) Fang
California State University
Cal Poly Humboldt
Hannah Belko
Max Brown
Katya Vallianatos
Katherine Sandberg

Cal Poly Pomona
Vidhi Chandnani
Cyenadi Ania Greene
Noah Lopez
Casey Shoultz
Ashley McCabe
Alissa Weaver
Santino Torres Bracamontes
Madison Rodriguez
Colin Mitchell
Sofia Luminato
Vivianna Bolivar
Carmel Dill-Cruz
Cal Poly San Luis Obispo
Brooke Higuera
Jude Logan Emmert
Sarah Kula
Victoria Price
Will McDermott
Cal State Channel Islands
Ella Torres
Cal State Fullerton
Kaitlyn Becker
Zachary Eric Tucker
Sydnee Gastelum
Madison Slocum
Jude Robledo
Joseph Cuerbo
Madison Slocum
Elizabeth Gonzalez
Samantha Lopez
Caleb Bhechsonggram
Cal State Los Angeles
Haylee Pliego
Cal State Long Beach
Adriana Zorrilla
Cal State San Bernardino
Lan Bundy
Mia Gomez
Alondra Medina-Silva
Dianna Perez-Martinez
Cal State San Francisco
Jubilee Henry Hagan
Ryan Roberts
Aidan Solis
Matthew Velasco
Cal State Sonoma
Halle McDaniels
Cal State San Jose
Ethan Alexander Schroth
Naomi Oluseyi-Oke
Jacob Cohen
Cal State San Marcos
Elijah Wilhelm
University of California
UC Berkeley
Ryan Shie
Theodore Chinn
Amanda Shultz
Rachel Huang
Lillian Moore
Evelyn Fontan
Julia Isabel Lopez
Barbara Zeynep Ganleg
UC Davis
Gabriel Hagedorn
John Anding
Tiffany Chang
Christopher Coles
UC Irvine
Elizabeth Anderson
Lyna Bui
Ryan Alessandri Recinos
Bao Phung
UC Los Angeles
Vincent Tran
Alyssa Miao
Jenny Tran
Laila Marie Alkhouri
Meghan Mason
UC Merced
Kyle Parker
Isabel Chen
UC Riverside
Seohyeon Kim
Nolan Cha
Laura Blackwell
Ashley Li
Victor Liao Chen
Luis Nunes Cardenas
Connie Yan
Olivia Yang
Shahin Amani
UC San Diego
Viraj Urkudey
John Adriel Flores
Kareen Holstrom
Madison Wolden
Christopher Ryan Imperial Cortez
Mia Rodriguez
UC Santa Barbara
Yasmine Suuck
Reginald Wang-Lin
UC Santa Cruz
Aidan Smith
California Private
Azusa Pacific University
Zachary DeSalvio
Brodrick Bohren
Jilliane Veronica Pacia
Brooke Bazela
California Baptist University
Will Emerson
Seth Torry
Alessandra Batista

Chapman University
Tiffany Vo
Kristen Mendoza
Claremont McKenna College
Isaiah Shields
Riley Zitar
Shiraz Smith
Concordia University Irvine
Hannah Endo
Loyola Marymount University
Jude Rhoa
Joshua Ward
Sherry Xiao
Occidental College
Ronald Chen
Yuji Jones
Platt College
Bibica Guardado-Navarro

Pomona College
Miriam Clement y Caridad
Point Loma Nazarene University
Aaron Stockwell
Christian Sapp
Jacob McNott

Scripps College
Michaela Yeung
Stanford University
Matthew Mercer Weis Jr.
Zion Asemota
Kelly Xu
University of La Verne
Arlyn Mora
Emily Aldana
David Martinez
Emily Mariah Casillas
Rebecca Keeler
University of San Francisco
Esther Boim
John Warmke
University of Southern California
Ashley Pei
University of Saint Katherine
Nadine Padilla
University of Redlands
Natalie Turiace
Ashley Carrasco-Hernandez
Jenna Proctor
Abigail Jackson
Vanguard University
McKenna Schell
Westmont College
Claudia Hernández
Arizona
Arizona State University
Tyler Mejia
Sean Austin
Sebastian Gomez
Grand Canyon University
Olivia Stradley
Jeremiah Coleman
University of Arizona
Linda Luschei
Embry-Riddle Aeronautical University
Oscar Jan
Colorado
Colorado College
Ady Bolinger
Stephen Menetrez
Colorado State University
Elliott Appleton-Sackett
Adrik Anderson
Florida
Palm Beach Atlantic University
Natalie Hannah Alcala
Georgia
Emory University
Selah Eum
Hawaii
University of Hawai'i at Mānoa
Isabel Sanvictores
Ella Misawa
Idaho
Boise State University
Jack Magallanes
Illinois
University of Chicago
Eli Wakefield
Maryland
Johns Hopkins University
Kathryn Enriquez
Massachusetts
Boston University
Quique De La Cruz
Brandeis University
Rohan Shivaram
Clark University
August Waggener
Minnesota
Carleton College
Ella Kuriyama
Montana
Montana Technological University
Kinnidi Anne Willmore
New York
Cornell University
Shaina Chen
New York University
Afiya Imam
North Dakota
University of North Dakota
Amelia Loeffler
Ohio
Bowling Green State University
Ryley Swift
Denison University
Sophie Rivasplata
Oberlin College
Abigail Ito
Kenyon College
Seong-Hyun Cho
Oklahoma
Langston University
Jaylen Rose
Southern Nazarene University
Gianna Bonnett
Oregon
Lewis & Clark College
Zachary Martin
University of Portland
Carly Rae Serna-Recancoj
Pennsylvania
Bryn Mawr College
Charlee Thacker
Carnegie Mellon University
Jill Kao
Swarthmore College
Anthony Rumbos-Perez
Rhode Island
Brown University
Meredith Chang
Texas
Texas Christian University
Gabriella Burum
West Texas A&M University
Ruben Denson
Utah
Utah State University
Garrett Lee
Vermont
Middlebury College
Liza Platonov
Mohamed Ali Dafaalla
Virginia
Christendom College
Matthew Rodriguez
Mary Baldwin University
Maia Ott
University of Virginia
Ellis Moffett
Washington
Gonzaga University
Olivia Abler
Adrianna Alfaro
Seattle University
Bella Bonnett
Wisconsin
University of Madison-Wisconsin
Luke Chraplewski
International
Canada
McGill University
Sequoia Clark
Italy
John Cabot University
Joslyn Gonzales

Sapienza University of Rome
Fernando Rimoli
Mexico
Universidad De La Salle Bajío
Karla Munoz Casillas
United Kingdom
Ravensbourne University
Mariana Gonzalez-Moro
Military
The Navy
David Robledo
United States Naval Academy
Davorah Strober
Hello there! Our goal is to provide relavent, engaging journalism for readers of all ages. Your donation will support the student journalists of the Wolfpacket at Claremont High School, and will allow us to purchase equipment, print our monthly issues, and enter in journalism competitions. We appreciate your consideration!
About the Contributor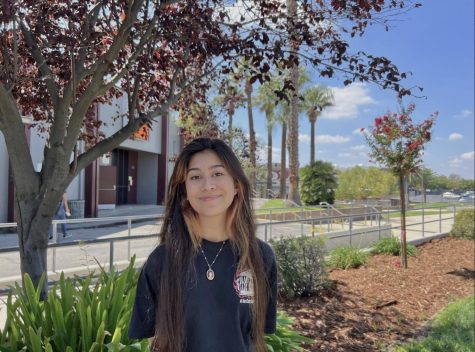 Frida Garcia, Head Features Editor
Frida Garcia is a senior at Claremont High School and the Head Features Editor of the Wolfpacket. Besides designing for the features spread, Frida's...