Reaching new heights: Sanvictores pole-vaults from land to sea
When one thinks of Hawaii, they might think of beaches, green mountains, palm trees, and surfing. They may think of it being the fiftieth state to join the United States, or of tiki statues and Hawaiian culture, but they might not immediately think of NCAA D1 athletic programs. On the island of O'ahu lies the University of Hawai'i at Mānoa, covering 320 acres of land with an undergraduate population of over 14,000 students. In the upcoming 2022-2023 school year, CHS track and field star Bella Sanvictores will be joining that number.
The University of Hawai'i at Mānoa, referred to in short as UH Mānoa, is right outside the capital city of Honolulu. Although she had many schools she could go to, Sanvictores ultimately chose UH Mānoa because of its location and the track program. In the next four years, Sanvictores will be majoring in international business while pole-vaulting for the track team.
"I really enjoy studying different languages," Sanvictores said. "The location is gorgeous and it's perfect for my major, because it's right between Asia and the United States."
Along with the geographic location of the university, Hawaii offers many opportunities to Sanvictores that she has been looking forward to since November. On a personal level, she is extremely excited to learn about Hawaiian culture and eat freshly-caught poke. On a technical level, the University of Hawai'i at Mānoa has a D1 track and field program, which will provide opportunities for Sanvictores to increase her performance in pole vault. She hopes to increase her personal record of 11'9", Claremont High School's women's record, in the upcoming years.
"It's an all women's program, so I'm really looking forward to having that close bond with ohana," Sanvictores said, citing the Hawaiian word for family. "I'm looking forward to training really, really hard, and really focusing on technique and getting stronger. There's a lot of competitions nationally, so that'll be fun. It'll be really exciting."
Living in Hawaii offers Sanvictores a chance to be on her own, which is both scary and exciting. However, unlike many of Claremont's college-bound seniors, who may only have opportunities to visit those in California during break, the UH Mānoa track team will attend national competitions. Many of these are held in California, which gives Sanvictores a chance to come back to visit friends and family.
For those who are going to go through the college admissions process in the future, the pole-vaulter has some advice.
"Be nice to yourself," Sanvictores said. "I feel like the college admissions process is really stressful, and I think we put a lot of pressure on ourselves. I feel like if I gave myself advice, I would just say, 'calm down, it'll all be okay, and things work out for the better.' "
In the summer between high school and college, Sanvictores will be going through post season recovery while visiting the beaches in California, spending time with her friends, and catching up on sleep. She is ready to vault to her next chapter in life — a challenge but an adventure. Before she leaves, Sanvictores would like to shoutout her friends, teammates, coaches, and family members.
"Shoutout to my wonderful mom and dad," Sanvictores said. "Shoutout to my girls Racquel, Evelyn, Karla, Nat, and Prakriti! Shoutout to the Claremont track team, Coach G, Coach JP, and my club coaches Livio and Rosario. Shoutout to my vaulting buddies Hunter, Thunder, and Maddie. Shoutout to las Pilipinas, Mabuhay! Salamat po!"
About the Contributor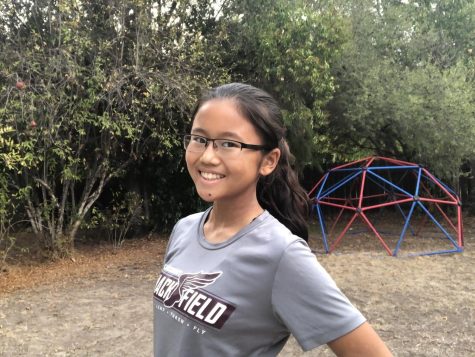 Mayo Ou, Head News Editor
Mayo Ou is a sophomore at CHS and the Head News Editor of the Wolfpacket in her second year on the staff. She loves undertaking investigative articles,...