2022 Senior Box: Ady Bolinger
Position: Head News Editor, I have been on the Wolfpacket for three years. Thank god I only had to deal with Lucas for one of those years!
Off to: Colorado College
Major: Classics, History, and Politics
Likes: The Olive Theory, Trader Joe's dumplings, iced matcha lattes, blasting music until near deafness hits you in the car, poetry, and word games.
Dislikes: Olives.
What I'll Miss: Debate overnight tournaments and bus rides, playing Cupcake 2048 in the Wolfpacket room, Fishtopia with Finn and Madame Wright, Leyland and I running into our favorite proctor, and shouting semi-mean things at Lucas from across the room.
Thanks to: Mr. Thomas for usually beating me in the Wordle and hating me for introducing him to Semantle. Madame Wright for putting up with Ellis and I for the past four years. Mr. Glavin for his iconic youtube hit "One More Cup of Cocoa."
Shoutouts to: Wolfpacket dumpling eaters: Cas, Izzy, and Sequoia. Lucas and Isabelle for the Log Ride. Erin for the hot tub nights. Leyland for always dancing in the car with me. Finn for always beating me in Word Hunt. Ellis for never failing to make me crack a smile when I am sad. Harry for being the brother I never thought I would have. And all my "senior friends" who technically have not been seniors for the entirety of the past year, but always will be in my heart…I love you guys!
Sage Advice: Dance! Dance at school dances. Dance in your bedroom. Dance with your friends in the car. Dance with or without music. Always dance!
Hello there! Our goal is to provide relavent, engaging journalism for readers of all ages. Your donation will support the student journalists of the Wolfpacket at Claremont High School, and will allow us to purchase equipment, print our monthly issues, and enter in journalism competitions. We appreciate your consideration!
About the Writer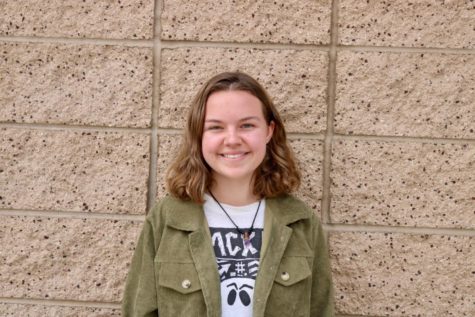 Ady Bolinger, Assistant News Editor
The 2020-2021 school year marks Ady Bolinger's second year on the Wolfpacket staff. Bolinger, a junior at Claremont High School, holds an editorial position...