CHS grad documents dire day: The Insurrection captured in photos
On January 6, 2021, Claremont High School 2011 graduate Amanda Andrade-Rhoades found herself putting her life on the line documenting one of the biggest historical events of the 21st century. Over a year later, in May 2022, Andrade-Rhoades learned she was part of the Washington Post's team of over 100 journalists that won the 2022 Pulitzer Prize in Public Service for a "distinguished example of meritorious public service by a newspaper, through the use of its journalistic resources" for their account of the January 6th insurrection. The winning work covers the lead up to, the action during, and the consequences of that fateful day.
From 11 a.m. to 6 p.m. on the 6th, Andrade-Rhoades was on her feet documenting the proceedings. Her efforts took her across multiple fronts and carried her into parts of the US Capitol Building otherwise unknown to her. It placed her in raging, screaming crowds, under the rain of rubber bullets, in clouds of tear gas, and in trampling hordes of people storming to "protect democracy." One of the memorable moments for her that day was passing a husband and wife pair from California. The wife was crying to her husband that they [the US officials] would not let them in, and because they could not get in, how would they protect democracy? For Andrade-Rhoades, that short moment emphasized how fractionated the country had become; that the insurrectionists could sincerely believe that they were protecting democracy where she saw their actions as a threat to democracy. This division spoke to her of the polarization and biasedness of the media and affirmed the necessity of sticking to facts. The experience also revealed that "agree to disagree" policies are not going to cut it.
When Andrade-Rhoades had received her assignment earlier that week, her editor had advised her to hide her media credentials for fear of her safety. On January 6, she unexpectedly found herself in the thick of an attempted coup, putting her life on the line to bear witness to the domestic terrorist attacks. Earlier that morning, she dismissed protesters' threats to break in, putting trust in the existing security measures. Fear soon sank in when Andrade-Rhoades saw part of the mob in bulletproof vests, reasoning that a bulletproof vest would not be necessary unless one was expecting imminent danger. At one point Andrade-Rhoades went to submit her photos at one of the media stations in the Capitol Building only to find it being ransacked, a sight that caused fear for her own life, posing the question: what would happen if they found out that she was a part of the media?
Even though she never directly confronted rioters, Andrade-Rhoades worried for her life multiple times that day. Andrade-Rhoades has covered many marches and protests in the past where she has had to use gas masks and has even faced down doxing threats, but nothing had come close to what she experienced that day. From almost being crushed by crowds of marchers, to being the target of rubber bullets, and having to use the gas mask she carried with her at all protests. That day she had two things on her mind: take photos and stay safe. It was only after the fact that she truly began to process what she had witnessed.
Weeks after the attack she still felt its effects in her home D.C. The military occupied the streets for months while people continued to go back to their daily lives. Fencing around capitol buildings stayed erect until spring and the few rallies that were held maintained low attendances. During this period Andrade-Rhoades continued with her work, but was forced to make hard decisions for her safety. She had to make choices like whether or not to wear a bulletproof vest when going out and always carrying a gas mask with her. She also found herself with PTSD triggered by the rattling of iron gates.
Now looking back on that day, having won the Pulitzer Prize for Public Service, she has a deeper understanding of the importance of her job.
"For all the people who reported on the insurrection, it was a hugely impactful event," Andrade-Rhoades said. "Because it reminds us that democracy is fragile. That fragility of democracy reminds us journalists the importance of our job. That you are here to do public service, that journalism is public service and that is the point."
Though Andrade-Rhoades has found great validation through her work, she did not always plan on being a photojournalist. She only picked up her first camera in high school for fun. It was not until three weeks into working at the University of San Francisco's newspaper, covering a protest, that she really felt a calling to journalism. Even so, she faced opposition from her parents who wished her to pursue a more stable career choice. Luckily Andrade-Rhoades' Cuban immigrant grandparent advocated for her choice, having lived under censorship and knowing the importance of new accurate, reliable news to protect democracy.
Andrade-Rhoades has a few reasons for sharing her passion with the Wolfpacket and the CHS student body. She wants to promote passion for journalism. Not everyone may have that "ah-ha" moment where a career path just clicks, but she wants to support others in their search. She also shared her award-winning photos because she believes that January 6 is important for people to acknowledge. Andrade-Rhoades specifically wanted to share these photos with younger generations, not shield them from reality and treat teenagers like babies. Finally, she wants people to see the world as it is; though the insurrection is hard to look at, it is important to be aware of the power and responsibilities that are held in a democracy.
For Andrade-Rhoades, this Pulitzer recognizes and honors all her hard work over the years, especially as a photojournalist, a job that is demanding and often overlooked.
"It is a testament to the power and importance of photojournalism, and journalism in general, as a public service," Andrade-Rhoades said. "Photojournalism is not a glamorous job, not a job that is well paid, you don't have regular hours, nor does it garner a ton of respect. But at the same time, it is worth it."
Hello there! Our goal is to provide relavent, engaging journalism for readers of all ages. Your donation will support the student journalists of the Wolfpacket at Claremont High School, and will allow us to purchase equipment, print our monthly issues, and enter in journalism competitions. We appreciate your consideration!
About the Contributor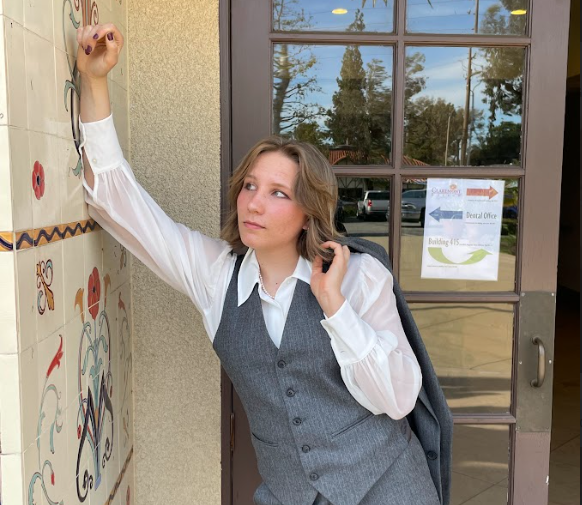 Carrie Anne Little, Editor-In-Chief
Carrie Anne Little is a senior at Claremont High school, and the Editor in Chief for The Wolfpacket. She is a partial IB student, enrolled in the IB english...