Soccer superstars the Bonnett Twins kick their way to new heights in college
Going to college is a new and adventurous experience, especially in unfamiliar cities with unfamiliar faces. The feeling of being in a new environment can be stressful, and being miles away from friends and family is a challenge. This is especially true if you are a twin and going to different schools. For Giana and Bella Bonnett, going to separate colleges in different states is a major change and this will be their first year ever going to separate schools.
"Bella and I will be going to separate colleges which will be a huge adjustment since we are so close," Bonnett said.
Giana will be attending Southern Nazarene University or SNU in Oklahoma, while Bella will be attending Seattle University in Washington. They have chosen these schools not only for athletics but also for academics, especially for their intended majors. They have both decided to go into the same major, business administration.
"I'm majoring in business administration because it is a broad area for career options to explore," Bonnett (Bella) said. "I desire to contribute to a bigger and future growing business(s)."
"I chose to major in business administration because I could see myself working as an Information Systems Analyst in the fire department," said Bonnett (Giana)
Though most people going into college are unsure of what they want to do with their career, the two sisters already have a general idea of what they would like to do during and after college. As for Giana, she hopes to become a scholar athlete, a difficult accomplishment, but she is sure she can pull it off. After college, the twins have very different plans, ranging from potentially working somewhere in the fire department to working at Vogue's platform.
Aside from their academic career, the two will also be pursuing an athletic career throughout their entire college experience. At CHS, they have accomplished amazing accomplishments through soccer, such as going far in CIF as well as winning league championships twice. They hope that they can continue to reach new heights by competing in a college level sport environment. Heading off to SNU and SeattleU with bright futures ahead of them both academically and athletically, the Bonnett twins would like to shout out some people who have made their high school experience what it is.
"I would like to give a shout-out to my twin flame (literally) Giana, and my best friends Natalie, Gabrie, and Mia," Bonnett (Bella) said.
"I would like to shout out my friend group Pony," Bonnett (Giana) said.
Hello there! Our goal is to provide relavent, engaging journalism for readers of all ages. Your donation will support the student journalists of the Wolfpacket at Claremont High School, and will allow us to purchase equipment, print our monthly issues, and enter in journalism competitions. We appreciate your consideration!
About the Writer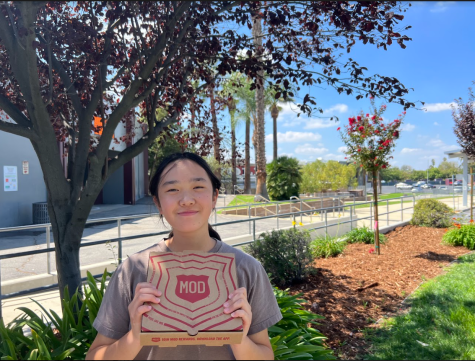 Anna Jiang, Head Features Editor
Anna Jiang is a sophomore at Claremont High School currently serving in her second year on the Wolfpacket as the Assistant Features Editor. Jiang enjoys...