Clark climbs to Canada, trading Starbucks for Tim Horton's
If you have not seen her with a Chocolate Cookie Crumble Crème Frappuccino at least once, then you do not know Sequoia Clark. The drink is one that she has likely been acquainted with more times than her siblings, and that may be because the drink truly fits the personality of Clark. Just like the mocha in this drink, you get the taste of her personality right away, which goes on to compliment the cookie crumble in this drink, which is sweet, but not overwhelmingly sweet, just like her. And just like this drink, Clark is at her finest when she's not melting in California's 100 degree weather. So in order to stay cool, Clark has officially made the decision to set herself up for success next fall at McGill University, ditching the burning temperatures of California for the breezy and boisterous city of Montreal, Canada.
McGill University is one of Canada's best-known institutions of higher learning and one of the leading prestigious universities in the world. International students from more than 150 countries make up nearly 30% of McGill's student body ‒ the highest proportion of any Canadian research university. Next fall, Clark will add herself to that statistic, as she prepares to leave the United States this summer.
"I think I've always known that I want to go back to Canada," Clark said. "Montreal is such an exciting place to live in, and they have a big culture for aerial circus, which is something that I love to do. In academics, they're very competitive and offer me the opportunities I'm looking towards for the future. I'm so excited to find my place in the world, and living in Canada during quarantine really helped me with my independence. Throughout life, there will always be the feeling of uncertainty, but that's just a part of life, and overall I'm really excited for the opportunities that await me."
Clark recognizes and appreciates the academic success that McGill offers to their students. With so many international students, the University prides itself in maintaining an excellent global health program, which Clark thinks will help her in majoring in biomedical life sciences.
"I think that looking at medicine from a greater perspective is something that is really interesting to me," said Clark. "I've always wanted to be a doctor, but since the pandemic, I've been drawn more towards global public health."
However, Clark plans on seeking other goals before achieving her major.
"Before getting my major, I want to volunteer at a hospital, that's something I've always thought is very rewarding. I've thought about continuing the newspaper there, but I don't think I would want to continue it if it did not meet the standards that the Wolfpacket has set."
Whether or not Clark chooses to continue her experience in journalism at McGill, she's more excited for the happier things in life and the opportunities that she'll encounter.
"For legal reasons this is a joke, but the drinking age is 18!"
Before leaving Claremont High School, Clark has some words of wisdom for current CHS students.
"I honestly think eating lunch with my friends over the years has been a big highlight of my high school experience," said Clark. "I think the biggest piece of advice that people should know is that you don't have to make everyone happy, and doing what you want to do is what should be prioritized. It's ok to fail. Don't prevent failure, because it's going to happen. Start spending your time preparing for what to do after you fail, and how you plan to reach your goals."
Before she departs to Canada to drink a lot of maple syrup, and to explore the wonders of Tim Horton's, Clark would like to shout out her friends that have made the high school experience worth it.
"Big shoutouts to Liza, Meghan, Izzy, Ella, Sophie, Glavin, Tran, and Lee. And of course a big shoutout to Lucas who was so enthusiastic about writing my article."
About the Contributor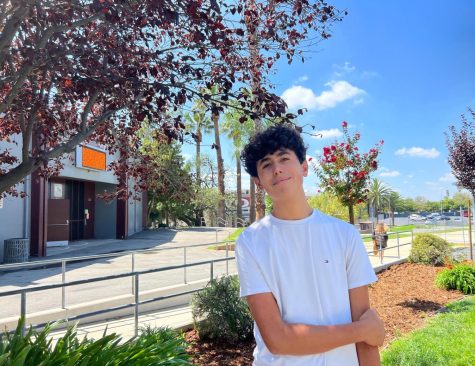 Lucas Grannis, Assistant Opinions Editor
Lucas Grannis is a sophomore at Claremont High School, who is currently serving his second year for the Wolfpacket as an editor for the Opinions section....