Homecoming Princess – Sophie Chua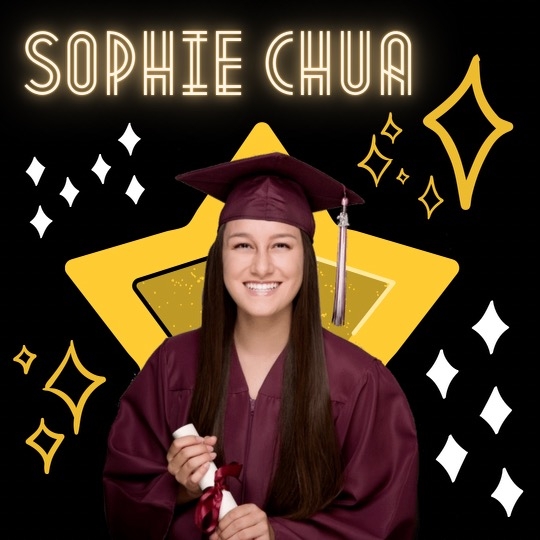 Sophie Chua is a senior at CHS. She has been a member of Claremont High School theatre for the past four years, and is a part of Link Crew. Chua was actually born in Canada, and moved to the United States when she was six. Although she immigrated at a young age, there are still some things she misses about Canada, like the snow.
"That one hurts; the fact that there's no snow in California. … But I'm definitely a California girl," said Chua.
During quarantine, she has been coping by spending quality time with her family.
"I am very blessed that I have people that I actually enjoy being around in my household … hanging out with them is definitely the main thing that has kept me sane," said Chua.
Chua considers her mom to be one of the biggest role models in her life.
"I'm convinced that I have the best mom," said Chua.
In addition to hanging out with family, she has been learning to cook and paint to occupy herself during lockdown. She also loves to watch movies, especially comedies, because she finds them comforting during the pandemic.
"If I watch too much drama or sad shows, it makes me sad," said Chua.
As a big rom-com fan, her favorite movies are "Crazy Stupid Love" and "The Proposal"—and as a preformer herself, her favorite subject in school is theatre. She also enjoys math, which comes naturally to her because she likes hands-on learning better than just memorizing facts.
An artist herself, Chua is a singer. She will be attending Belmont University in Tennessee in the fall. At Belmont she plans to study music business, because, like many, as a little kid Chua dreamed of being a pop star. She is already a verified artist on Spotify with numerous singles and thousands of monthly listeners—so that dream is not too far-fetched. She hopes to one day make a career and name for herself in the music industry. Her favorite musician of all time is Taylor Swift. She describes herself as "a die-hard Swiftie."
It is her "secret goal" to one day travel to all seven continents, and Taiwan, Hong Kong, and Santorini are some of the top places on her list along the way. As part of homecoming court, Chua would like to shout out her friends, her family, and her boyfriend for always supporting her.