Reisch Aims for Success at Notre Dame
Settled in the scenic, quaint town of Notre Dame, Indiana, the University of Notre Dame's sprawling and gorgeous campus illuminates the town. In addition to its aesthetically pleasing exterior, Notre Dame's global reputation and prestige in research and academia, alongside its powerhouse football team, have made it an extremely sought-after institution. In a year of unprecedented circumstances, CHS senior Therese Reisch managed to gain acceptance into the University of Notre Dame and will be joining its incoming class of 2025 this fall.
For many seniors, the last step in the college admissions process—deciding which school one would like to attend—can be more stressful than the application process itself. Yet for Reisch, Notre Dame has seemingly always been at the forefront of her college list which made her final decision of committing to the school all that much easier.
"My family have always been big Notre Dame fans," Reisch said, "But there's obviously more to it than that. Notre Dame has extensive research opportunities for the subject I'm interested in, as well as a diverse student body, a beautiful location, and a great campus size. Everything just came together for a perfect school."
At Notre Dame, Reisch is planning on studying Environmental Science while simultaneously keeping her options open to exploring the breadth of studies the institution has to offer. Her interest in environmental science spans from the "actual science" to the policy and societal implications as well, and Reisch appreciates the relevancy of the major to pressing issues facing our world today, such as climate change.
As much as college is an opportunity to expand one's intellect and knowledge, it is also a place for individuals to grow personally. In addition to her studies, Reisch looks forward to expanding her extracurricular interests and worldview through meeting new people and stepping outside her comfort zones.
"I'm really excited about honestly just meeting new people, and being able to try new things and to step outside my comfort zone," Reisch said, "I already know that there's some clubs I want to participate in when I arrive on campus, such as a bee club, sustainability club, sports clubs, and more."
As much as she looks forward to her new endeavors in college, Reisch will also surely miss the friendships she has made and experiences she has had here at CHS. Throughout high school, Reisch has immersed herself in various activities at CHS, from soccer and cross country to the Asian Student Alliance. Through these activities, Reisch has made memories of a lifetime and found friendships that she will cherish forever.
Though high school comes with its ups and downs, including tortuous hours spent studying and grinding for exams and assignments, the ending of high school is still bittersweet for many. For Reisch, leaving high school means leaving behind the teachers whose support she is so grateful for and the friends she made throughout her time here.
"I will definitely miss all my friends!" Reisch said, "I've built some great relationships here and will forever be grateful for meeting all these people, they really just helped me become the person I am. Also, thanks to all the teachers that I've had throughout the four years at CHS! They've just all been so supportive and helpful in my journey and I couldn't have done it without them."
About the Contributor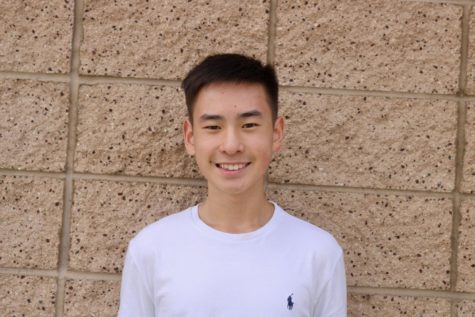 Charles Jiang, Head News Editor, Business Manager
Charles Jiang is a senior at Claremont High School currently serving in his fourth year on the Wolfpacket as the Head News Editor. Throughout his years...