Lucie Higuera plans to pursue acting at Pace University
The end of senior year signifies an important change in life as students transition from the daily comforts of suburban routine into the rapidly-paced world of adulthood. While the uncertainty of change can be daunting, for Lucie Higuera, it only marks the beginning of a promising future as she pursues acting in New York. Moving from a small stage to the endless possibilities in the Big Apple, Higuera will be attending Pace University to further develop her skills in acting. There, she will be partaking in their Bachelor of Fine Arts program, which teaches the skills of film, stage, and voice acting.
"Ever since I was in middle school I was attracted to attending college in New York for acting," Higuera said. "NYU was a goal of mine but as I was more aware of what kind of student I was in high school, not taking full IB or AP, my counselor and I looked at schools online and Pace seemed perfect for me."
Acting has always been a present element of Higuera's life, beginning at the age of seven when she began musical theatre. Since then, she has continuously grown and focused on improving every year. During her time at CHS, she was fully involved in theatre for all four years, partaking in musical theatre freshman year, and theatre production for the latter three. Additionally, she spent the last three years as a thespian and served as this year's troupe secretary. While she enjoyed her time spent in musical theatre, her passion for acting became more apparent through her time spent in theatre production. One actor that has inspired and furthered Higuera's passion for acting is Johnny Depp.
"Johnny Depp is an actor that inspires me so much," Higuera said. "It's incredible how he can play virtually any role and put so much energy into whatever character he is playing. What I think makes him such a good actor is that sometimes I don't even recognize that he's playing a certain character because he is so brilliant in diversifying his character development."
When performing on stage, actors have the important role of representing and expressing the entirety of the character they are portraying to build connections between the audience and the narrative. It is necessary for actors to capture the crowd's emotions to the best of their abilities in order to fully engage and connect audiences to the role they are playing. Higuera's favorite aspect of acting is using her ability to capture the emotions of her spectators and control the atmosphere of a room.
"If I have a monologue or a scene by myself, all eyes are on me and the way I display my character will make the audience feel a certain way and I guess I just really enjoy seeing them react to me," Higuera said. "Whether it's laughter, applause, disgust, tears, etc. I have the power in that moment to control a mass of people."
As Higuera takes her next step to New York, she looks forward to the change in environment. In college, she is eager to learn and grow as an individual. While she has yet to plan the script of her future, she knows that theatre will always be a present element in her life.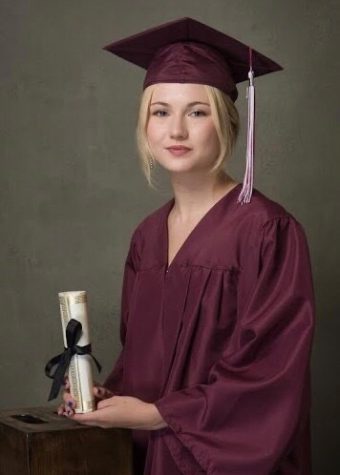 "I'm really excited to be in an environment where I feel like I can be myself," Higuera said. "I've been to New York a few times and I just feel really in my element and happy! I don't really have a plan for the future yet, I just want theatre to be a part of it. I also have just had the ultimate goal of being happy and being able to sustain and support myself."
Reflecting back on her time at CHS, Higuera will miss her best friends, Vicky and Claire the most. Despite the space between California and New York, she knows that no distance will come between their friendship and hopes that they will be able to visit. As she departs from CHS, Higuera left some words of advice for students.
"I just want people to know that toxic, judgmental people don't matter," Higuera said. "You will have a few real friends and you'll meet so many more in your lifetime, so don't hold onto people who don't care about you."
While she bids goodbye to the familiar CHS theatre, Higuera's acting will only continue to progress and improve. With the stage set, the future shines brightly for Higuera as spotlights await her in New York.