Varsity Football Team Makes it to CIF Semi-finals after 20 years
The last time CHS ever went to CIF semi-finals as a football team was 20 years ago, 2001. However, for the first time in 20 years, CHS football made it to the CIF semi-finals with a winning record. The big question is: how did they manage to pull everything off this season?
Coach Hile has been the head varsity coach for football for three years and has been coaching football overall for 24 years. Him and Coach Campuzano have been the varsity football coaches for several years and led the team to seven wins this season.
"Coach Campuzano got handed the offense and he only had a few weeks to get it implemented into the games, but he did a great job because the offense formation improved every week," said Hile.
COVID-19 was by far such an unexpected obstacle for all the sports teams and one in particular was football. Due to the pandemic, the off-season for football was shortened and CHS's very first football game of the season was shut down the week before due to the arrival of covid.
Nate Ward, a current junior at CHS, has been playing football at CHS since freshman year and is currently a guard on the varsity football team. He was one of the many players that were affected by sports being shut down due to the pandemic.
"It was nice returning to football because it gave me a presence of normalness in my life, being able to play football," said Ward. "We tried to have as normal as we can get but with the masks and being in the gym it was difficult."
However, it is clear to see that this season was amazing for football despite last year's difficulties due to canceled practices. Over the course of these months, CHS had achieved a seven-six record, which brought the football team to return to CIF playoffs. They reached the semifinals before they lost to St. Margarets by a score of 13-23. Although the team did not make it to the finals this season was quite possibly one of the best ones yet.
"I feel this year was our best season and everyone has grown and the seniors helped a lot," said Ward "I feel that everyone can still improve but Coach Hile motivates us to keep us going."
A major motivation point throughout the season for most, if not all football players, is Coach Hile. Coach Hile gives his players motivational speeches that lift everyone's spirits and gives the team different perspectives on everyone's lives and even their opposing team.
Even though the season has ended, the whole football team still continues on with training and plans to start again on January third.
"We start lifting weights in the off season and it's always the same goal which is to have a successful pre-season, then to win league, and then to win CIF championships," said Hile "The weight room is the biggest thing because you build your team culture in there because you're in there the longest amount of time."
It is clear to see that overall this has been an amazing season for the varsity team and such huge accomplishments have been made. Next season, there are high hopes for making it all the way to CIF Finals, and the rest of CHS cannot wait to see what it will bring.
About the Contributor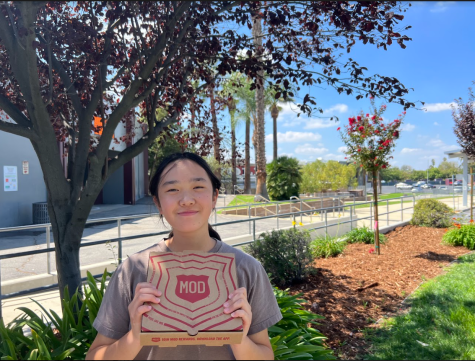 Anna Jiang, Assistant Features Editor
Anna Jiang is a sophomore at Claremont High School currently serving in her second year on the Wolfpacket as the Assistant Features Editor. Jiang enjoys...