Witnessing the Rainbow in all it's Glory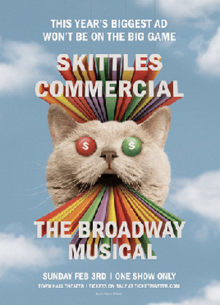 Mankind has been around for millennia, inventing such trivial things like hospitals and the public school system. However, no single invention compares to the magnum opus of humanity: "Skittles Commercial: The Broadway Musical". Mars, Incorporated, the parent company of the Skittles brand, began selling tickets directly after a public announcement of the musical some time in January 2019. Not surprisingly, the tickets sold out in a matter of days.
So on the day of the 2019 Super Bowl, instead of airing a five million dollar 30 second advertisement, Mars decided to make a Broadway musical instead. After many months of casting, costume design, set design, rehearsals, and publicity, the musical finally began at 1pm EST in The Town Hall in New York City. The basic plot of the production boils down to this: On the day of the Super Bowl, Michael C. Hall walks into a convenience store (the reason is unknown), decked out in a full catsuit. The clerk asks Michael as to why he is wearing a catsuit, so Michael explains that he will be in a Skittles themed musical later that day, and that he fears it might ruin his career, thus starting the first of three songs, "This Might Have Been a Bad Idea". After this, staged audience members start heckling Michael about the performance so far. And with a weird transition, now said audience members are on the set, which now resembles the outside of The Town Hall. These fake audience members are still grumbling about the "performance" of the play, starting a riot. Absolute chaos breaks out as curtains are torn down, and Skittles are thrown everywhere. All the chaos ends when Michael C. Hall is crushed by an ATM, killing him. The final scene takes place in the afterlife, where Michael meets up with the spirits of Winston Churchhill and Amelia Earheart. They then go into song and dance, singing the last song, "This Definitely Was a Bad Idea."
Mars tries its best to bury this musical as much as possible, going as far as copyright striking and DMCAing anyone who posts a video about it. This experience was supposed to be only for fans that shelled out $200 to see this magnificent performance.
Despite the big price tag, I love this type of advertisement. Trying to get the internet as riled up as possible, leading to often extremely interesting, quirky (and expensive) inventions that would otherwise never see the light of day. Other companies like KFC and Pizza Hut also feed into this type of marketing, and it has results! KFC has their KFConsole (a high end PC capable of heating chicken), and Pizza Hut has their Pizza Sneakers (shoes capable of ordering pizza with a press of a button). Even though Mars is trying to bury this gem as far down as it can go, I'm still glad it all happened. There's something that's just special about taking a look back at all these interesting products. I truly hope the Mars Company continues to create all these crazy strategies. Let's have another Skittles musical.
About the Contributor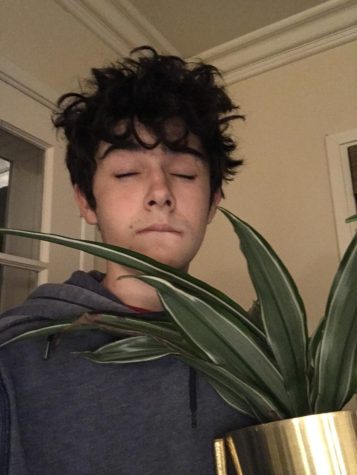 John Warren, Assistant A&E Editor
John (Jack) Warren is a Sophomore at CHS, and is a reporter in the wolfpacket. Jack has recently been enjoying learning how to code using HTML and Python....