SATIRE: An Athlete's Everyday Life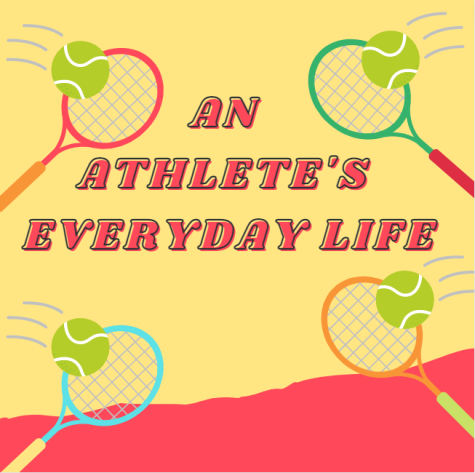 This is obviously not an exaggeration of any sort. The schedule down below is an exact depiction of an athlete's daily life, from morning to evening. Use this as advice to manage your time well and maybe just get good at life.
Monday to Friday (changes depending on the block days)
3:30am
Wake Up
4:00am – 4:15am
Eat Breakfast
(consists of oatmeal, strawberries, and 10 bottles of Protein Shakes. It is important to monitor my health as an athlete, and by keeping my body as fit as possible with little fat, I am able to do 50 times the activity that others are capable of. I eat breakfast everyday, which I assume everybody should be eating)
4:30am
Arrive at school
(I do suffice that 4:30am would be a good time to arrive at school. It is essential for me to wake up at the right time and never skip my morning routine, or else I will become unfit like everyone else in the school.i can not let this happen)
4:30am – 7:00am
Self practice at Tennis courts
(Self practice at the tennis courts is something that I imagine others could do as well if they were motivated. I start with a 2 mile walk to warm up while simultaneously listening to lectures on TED TALK to better understand the dangers of the world, specifically the dangers of wearing crocs. It is also very crucial to hydrate while walking, so I drink one gallon of water throughout different periods of my morning practice.)
7:25am – 8:25am
0 period (Honors WS)
(Due to my limitations of being a sophomore, I am unable to take harder classes than Honors WS. I am proud to say that I am the best student in my class with a grade over 100 percent.)
8:30am – 9:21am
1st period (Ceramics)
(One of the periods that I actually enjoy is Ceramics. The ability to mold clay into different shapes helps me with my ideas for futures sculptures that will one day be featured in a museum.)
9:29am – 10:20 am
2nd period (Chemistry)
(Although Chemistry seems hard to most people, I do think Chemistry is one of the easiest classes offered at CHS. It's a shame that people find this class hard. But I don't!)
10:56am – 11:47am
3rd period (Honors Eng)
(Just one word: easy)
11:55am – 12:52pm
4th period (French 3)
(Languages are my strong suit, so French 3 suited the best for me. Oui Oui Baguette)
1:40pm – 2:31 pm
5th period (AP Calc AB)
(I am not an over achiever but I do think this is the minimum for every student out there. This class is moderately hard, but I do find myself loving math and so should everyone else.)
2:31pm – 3:35pm
Library for Self Study
( I prioritize self study in the library after school. I would sometimes bring my weights to the library to lift as I do my homework, therefore perfecting my arm muscles for optimal tennis play.)
3:45pm
Tennis practice starts
(This is the time where I show that my practice and self discipline is better than others. By showing off my skills to everyone else who is in tennis, my inflated ego will continue to support me along the way of high school sports.)
3:45pm – 4:00pm
Scrimmage
(A warm up of sorts, doesn't really help in any way but is good practice for a tennis athlete like me. I excel at scrimmage and many other things as well.)
4:00pm – 4:30pm
Play king of the court
(I take this as an absolutely serious game, where I would try really hard to beat the other player. I am not a try-hard.)
4:30pm – 6:00pm
Doubles
(Although it is fun sometimes, losing does not feel good. Winning every double game is a must.)
6pm
School practice ends
(Hydrating is always important for an athlete, and I drink one gallon of water again. I would stretch for 15 minutes after practice to loosen my muscles, and prepare to go home and study.)
6:30pm – 7:30pm
Doing homework
(One hour is enough for every subject while also doing lunges to work my leg muscles.)
8pm – 3:30am
Sleep (7 hours)
(It is important to get enough sleep every night. I get 7 hours of sleep everyday, the minimum to sustain a healthy lifestyle and improve my mentality and physique as well.)
Ps. It is a crime to use the wonderful weekends as days to relax.Therefore, I force my friends to play tennis with me on Saturday and Sunday.