Gun violence creeps to Claremont: lives claimed in Montclair and Monterey Park
Incidents of gun violence are dominating the headlines of U.S. news, escalating panic and fear across the nation. The Giffords Law Center states that an average of 120 Americans die from gun-related injuries every day and firearms have become a leading cause of death for children under the age of 18. According to the Gun Violence Archive, there have been nine mass shootings in California alone since the start of 2023 – with one tragic incident of gun violence occurring in Claremont's neighboring city of Montclair.
On February 2, 2023, 15-year-old Omar Espinoza, a student of Diamond Ranch High School in Pomona, was fatally shot at the Montclair Place, a popular shopping center located ten minutes away from Claremont. According to his godmother, Cynthia Jimenez, Espinoza was at the mall with his friend when they got into an altercation with a group of teenagers in the parking lot of a nearby Target. Among the group was a 17-year-old from the city of Pomona who was on Los Angeles County probation for a prior firearm possession case. The police arrived after the fight had happened to find Espinoza with gunshot injuries and the 17-year-old with stab wounds. Espinoza was rushed to the hospital, where he was declared dead, while the latter underwent emergency surgery and survived the stab wounds. Upon his recovery, the 17-year-old was arrested as a suspect for killing Espinoza. The police have made three additional arrests after detectives who served search warrants in Pomona city identified the other group members from that day: two 20-year-olds and a 16-year-old. Firearms were discovered and seized; all four group members were arrested on suspicion of murder and gang enhancements.
Emily Hayes, a freshman at CHS, expresses her concern for an incident like the Montclair Place altercation occurring in such close proximity to Claremont.
"It's awful…I live in an area close to [the Montclair Place]…and it's really scary to know that something like that is going around your house and where you live," Hayes said. "[The victim] didn't know that anything bad was going to happen to him…but then he lost his life. And he was as old as us."
The Montclair Place shooting is only one of the recent gun incidents affecting Southern California. On January 21, 2023, during a Lunar New Year celebration in Monterey Park, a 72-year-old man named Huu Can Tran entered a ballroom dance studio and opened fire on the elderly Asian American attendees. Tran killed eleven members and wounded ten others; an attack officials consider to be one of the worst mass shootings in Los Angeles history.
Jacob Budner, a senior at CHS, describes the impact of the recent incidents on his peers, the school's atmosphere, and other American high schools as a whole.
"I think in general students have become more afraid to go to school everyday," Budner said. "It is sort of working its way into the social consciousness that this [gun violence] is a real threat to our lives…Every single day is like 'will someone die today?' Anything can happen on any day — there's no guarantee of safety whatsoever."
Gun violence has become a public health epidemic in the United States, affecting countless individuals, families, and communities across the United States. The shootings at Montclair Place and Monterey Park leave a lasting scar on Southern California as Claremont City and neighboring communities grieve the passing of these victims.
About the Writer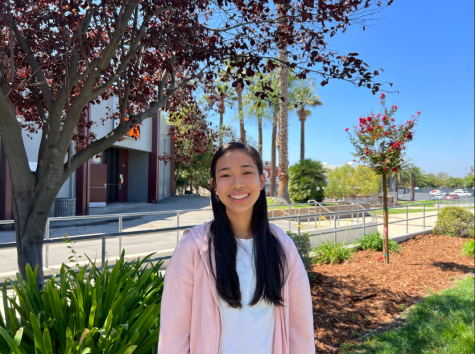 Enya Wang, Reporter
Enya Wang is a freshman and a reporter for the Wolfpacket. She has always had a passion for words and literature, which developed with her childhood AR...