Jamison Glaspy to cheer on San Jose
On May 3, Jamison Glaspy made CHS history by becoming the first athlete to participate in signing day for cheer. Committed to San Jose State University, she joins the small percentage of talented athletes who compete at the Division I level. Though Glaspy has been dedicated to cheer for six years, it was not until her senior year that she considered pursuing it at the collegiate level. It was the joy she experienced during her final high school season that put into perspective how much the sport supports her.
"I've grown through cheer because of the community I'm surrounded with," Glaspy said. "You just get to know each other so well. I couldn't see myself not having that for the next four years."
The timeline for Glaspy's commitment process differs from most sports. After receiving all of her college acceptances, she began researching the cheer programs each school offered. Competing in the Division I conference, the prestige of SJSU's team was immediately enticing. She attended a clinic held by the team in February and naturally acclimated to the warm atmosphere of the team and coaching staff. When later returning to the campus for its admitted student weekend, she went to an open gym session, which solidified her decision to undergo the three-day tryout process.
Beyond cheer, SJSU fit what Glaspy desired out of a college. Wanting to stay in California but still be a good distance away from home, the Bay Area was the perfect middle ground. The campus itself is settled right in downtown San Jose, making for a lively and tight-knit academic community. She looks forward to immersing herself in her two areas of passion, majoring in political science and minoring in graphic design.
Glaspy's historic cheer commitment is only one of her many accomplishments. As captain of the competition team, her leadership plays an essential role in the teams' success. She has also been a dedicated member of ASB for four years, currently serving as President. Being so involved in the planning of each school event, doing it all for the final time has been bittersweet.
"It's really surreal," Glaspy said. "If you asked me three months ago, I would've said I'm not ready to graduate. But now everyone has settled into the fact that we're going our different paths. It's nice to see how we've all grown as people since freshman year."
Reflecting on her high school experience, she is endlessly thankful for the support from her family, Mr. H's valuable guidance, and the constant compassion of her friends. CHS is incredibly grateful for her immense contribution towards creating a welcoming environment on campus and has no doubt she will continue to brighten those around her at SJSU.
Hello there! Our goal is to provide relavent, engaging journalism for readers of all ages. Your donation will support the student journalists of the Wolfpacket at Claremont High School, and will allow us to purchase equipment, print our monthly issues, and enter in journalism competitions. We appreciate your consideration!
About the Contributor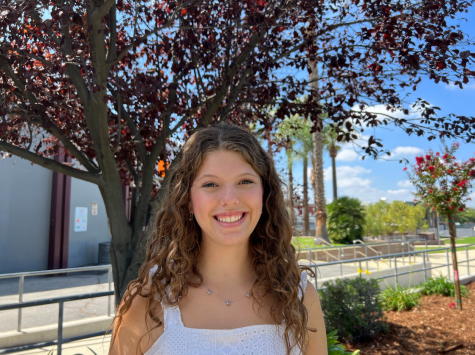 Melina Tisopulos, Editor-in-Chief
Melina Tisopulos is a senior and the Editor-in-Chief of The Wolfpacket. Melina loves to write and intends on studying journalism or English in college....