Gyury Lee leaves CHS and heads to Scripps
Known around campus as the senior class president or maybe the one girl one sometimes sees on Wolfcast, the 17-year-old is finally ready to step out of her high school adventure at CHS and go a mile north to Scripps College, a place she grew up loving because of her dad.
"I came to Claremont when I was eight because my dad was going to get his Ph.D. at the Claremont School of Theology, and ever since, we would always walk past Scripps College together," Lee said. "I immediately fell in love with the campus and how pretty it was while my dad explained the different Claremont Colleges. The reason why I chose to stay in Claremont is that I get to be close to my family, and it's literally a three-minute drive from my house. My dad was so happy that I was going to Scripps because my dad got his Ph.D. at the Claremont Graduate School right across the street."
In addition, Lee will be studying abroad in Seoul, South Korea this summer at another woman's university, Ewha University, to learn the language of Korean and get the Seal of Biliteracy.
However, being close to her family was not the sole reason she chose Scripps; it is an all women's college and holds an extraordinary place in her heart. She has always been immensely passionate about women's education and going to a female-only college because of the number of people who succeed coming out of women's colleges. As an alumna, Lee someday hopes to contribute to and impact education for women and girls around the world.
She looks up to the many women who are pioneers in their fields and have graduated from girls' only colleges all over the country, which inspired her massively. The idea of having a close, tight-knit community motivated her to focus her applications on women's education. Aside from the fact that Scripps had stood out to her since she was little, Lee had also gotten a full-ride scholarship.
"I also generally like that Scripps only has 1,000 students in under-grad for a more intimate education, and you can expand yourself through other Claremont Colleges such as Pomona, Pitzer, Harvey Mudd, and CMC," Lee said. "I got into Scripps for history, but I plan on going undecided for the first two years because it's a small liberal arts school, and they allow for many internship opportunities, so I have time to figure it out."
Lee's time at CHS has left a significant impact, from being a dedicated full IB diploma student to receiving a multitude of presidential volunteer awards and being an incredible senior class president, all of which are a testament to her time management skills and perseverance. She was able to juggle all her demanding classes and senior class presidency with playing tennis for the JV team at CHS, joining the track team in freshman year, musical theater, choir outside of school, tutoring children in Korean, being in an orchestra outside of school, and playing violin in nearby nursery homes for elderlies.
In her free time, Lee enjoys thrift shopping, cleaning her room while listening to music, buying Trader Joe's roses religiously, watching Bee and Puppycat, hanging out with her friends, and playing Valorant, League of Legends, and Roblox with them until 3 A.M. She also enjoys baking — specifically macaroons, cupcakes, and chocolate-covered strawberries.
As Lee embarks on her new journey at Scripps College in the fall, she cherishes the memories she made of making her senior class president campaigning video with her friends and teachers, laughing endlessly with her friends, crying in her Spanish class, and listening to Mr. Thomas's Deep Thought Thursdays. She will miss her teachers, Maestra Suarez, for helping her in Spanish, and Mr. Thomas and Mrs. Sieg for being incredibly welcoming and involved in her academics. Lee is especially excited about this new chapter in her life, which is full of new experiences, friends, and environments. The Wolfpacket wishes her the best of luck in her college endeavors. Congratulations, Gyury!
Hello there! Our goal is to provide relavent, engaging journalism for readers of all ages. Your donation will support the student journalists of the Wolfpacket at Claremont High School, and will allow us to purchase equipment, print our monthly issues, and enter in journalism competitions. We appreciate your consideration!
About the Contributor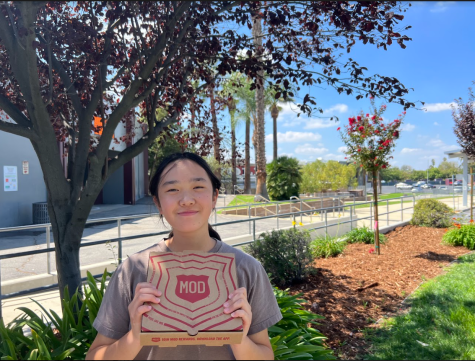 Anna Jiang, Head Features Editor
Anna Jiang is a sophomore at Claremont High School currently serving in her second year on the Wolfpacket as the Assistant Features Editor. Jiang enjoys...