Caro Quintero dedicates themself to psychology and beyond
Graduation is a new beginning for many seniors, and Caro Quintero is more than ready for this step forward.
Charismatic and compassionate, Quintero aspires to become a children's psychiatrist by majoring in Psychology at Citrus College with hopes of transferring to the University of Redlands. As someone who has experienced and witnessed the struggles of mental health, Quintero is committed to joining the support system in providing resources and connecting with young patients.
"Growing up, my household wasn't a very mental health positive environment," Quintero said. "Seeing [people struggle with mental health] and knowing there were resources out there, I want to become part of the solution and offer help."
With graduation, Quintero is also excited to move out and looking forward to traveling.
"After getting my certification and staying in the U.S. for a while, [I plan on] saving a bit of money to visit Mexico," Quintero said. "My family and I visited last summer since we have family over there. My mom visited a lot of parts [in Mexico] when she was young and she recommends a lot of places to go."
At San Antonio High School, Quintero has seized most of the opportunities offered on campus, from playing on the volleyball team to being a part of Key Club.
Most notably, Quintero has shined as a diligent ASB President of San Antonio this past year. Creative and hardworking, Quintero has been interested and involved in art since middle school. When they found out they were not enrolled in an art class this year, however, Quintero did not let it stop them. Holding fundraising events, planning triad award ceremonies, designing the yearbook, and much more, Quintero has broadened their creative mind and enjoyed the hands-on activities as well as the stress — which they admit with a laugh.
Quintero would like to shout out Melania Sulca for being their first high school friend when the pandemic was affecting their freshman year.
"Melania connected with me emotionally and in a way that was very genuine and special," Quintero said. "They're so wise…they offer this new point of view…Melania has just really helped me grow."
When asked about their goals, Quintero thinks for a moment before saying something that stands as valuable advice because it resonates with all of us.
"My goal for right now is finding what will make me happy," Quintero said. "I'm looking to do what feels right and let myself make mistakes…grow and let myself take it at my own pace so I can really find something that I'll love."
Hello there! Our goal is to provide relavent, engaging journalism for readers of all ages. Your donation will support the student journalists of the Wolfpacket at Claremont High School, and will allow us to purchase equipment, print our monthly issues, and enter in journalism competitions. We appreciate your consideration!
About the Contributor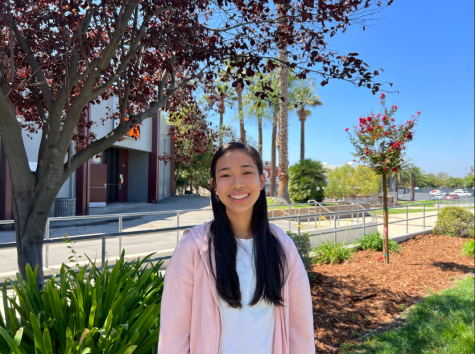 Enya Wang, Reporter
Enya Wang is a freshman and a reporter for the Wolfpacket. She has always had a passion for words and literature, which developed with her childhood AR...