SATIRE: A loser-proof guide to bag a Valentine's Day date
Love is in the air this time of the month at Claremont High School. Making out in front of other people's lockers, feeding each other the school lunch, and going to Trader Joe's together…I am sure you have seen it all. If you too want to participate in these activities, worry not. Here are tips to guide you in finding the love of your life. It is never easy trying to find 'the one' but with this expert knowledge, your journey should be successful.
A good love story always starts with an introduction. It is crucial to start off with a bang. Here are some pickup lines that are sure to set you on the right path.
– "I have not seen you in any of my classes, but I think we have chemistry together."
– "The only thing I like hearing more than that end-of-class bell is your voice."
– "I need more than an 8-minute passing period with you."
– "I was doing a math problem and it told me to find 'x', so here I am."
Now that you have executed the pickup line to perfection, it is time to plan a date. For those of you that are already in a relationship, listen up, these date ideas are sure to spice things up.
Date Idea 1: Recreate the 'Romeo and Juliet' balcony scene in the Doctor O'Connor Student Center.
– This date idea introduces a new air of romance into your relationship, and what better place to do it than atop a historic landmark? You can embrace everything you have learned from your English class through rigorous weeks of studying Romeo and Juliet too, so this will make it all worth it.
Date Idea 2: Go L.A.R.P. ING!
– What better way to spend time with your date than Live Action Role Playing?! You can further hide your insecurities from your date by dressing up and pretending to be anything but yourself! Transform into a medieval knight besieging a castle or a Revolutionary War soldier leading a charge on the battlefield, and be the hero in your date's mind. Now all your daydreams of saving your crush from peril can become a reality.
Date Idea 3: Explore abandoned houses!
– Introducing a bit of mystery into the mix, this date is perfect for adventure seekers. Just make sure you have your tetanus shots! Activities include: running from ghosts, vandalizing property, and even setting up a cozy camp to return to. This is a must for thrill seekers everywhere.
As the relationship progresses and you two get closer, anniversaries will come and gifts must be given. You can NEVER forget a gift, so here are some gift ideas that are sure to win their heart.
Gift Idea 1: Knockoff Louis Vuitton bag
– Sure, a Louis Vuitton bag is a lot to ask for, but with a good enough fake, they will never know the difference! Why pay hundreds of dollars for a bag with a fancy logo when you can get the same thing for half the price? The best part is, you never have to tell your S/O that it is a fake! Unless they find out…then you are on your own.
Gift Idea 2: Matching backpacks
– Let the whole school know what is up with your matching backpacks. Afraid of your partner getting hit on right in front of you? Well, fear no longer as these backpacks let everyone in the quad know that you two are an item. Or you can go beyond the backpacks and wear matching Mickey and Minnie Mouse t-shirts that profess your undying affection for the other.
Gift Idea 3: Wolfbucks
– Wolfbucks are a hot commodity right now. This multi-use gift is good for free snacks, skips to the front of the line, and even a golf cart ride to your class! With that wide range of very useful implementations around school, who can resist? CHS is expanding the use of Wolfbucks to include an "automatic A+" in any class of your choice, so better be on your best behavior and get them before they run out!
Now that you have reached the end of this article, I hope you can implement all these life-changing tips to help you find the love of your life. These air-tight tips changed my life once, and I hope they can do the same for you. I wish you a happy ever after!
About the Writer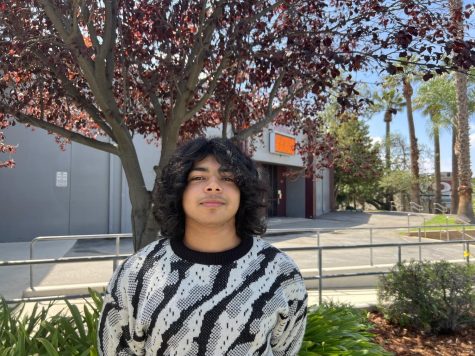 Lorenzo Cano, Reporter
Lorenzo is a Senior at Claremont Highschool and a reporter for the Wolfpacket. Their current favorite musical artists include Youngboy Never Broke Again,...