We are not crazy; but homeroom curriculum is
CHS' weekly homeroom class: "an intent to create a safe space, and opportunity to explore topics that are not normally covered in the curriculum classroom, but that are often needed in guiding students through the world today." The mere idea of this sounds intriguing and poised for success. After all, in a world where an overwhelming majority of young adults feel uncertain and unprepared to succeed, homeroom's promises are impressive. Yet, nearly eighteen weeks of this program has been enough to tell administrators that homeroom has been unpopular, driven by misinformation, and useless to the future of students.
Andrea Gosnell and Erin Fowler are the CHS homeroom coordinators at Claremont High School. When asked about how homeroom lessons are designed, the answer was clear.
"Homeroom was a district initiative that was negotiated at the district level with the teacher's union on our behalf," Gosnell said. "It was happening, but the CHS leadership team got to control the topics that were covered, which formed a sub-committee to specifically deal with homeroom, and so counselors, teachers, and administrators were present. We went back through a lot of data from surveys that we had gotten over the years, and we decided on six sub topics to cover that we felt like were missing that needed to be acknowledged. That is how we decide what we design lessons around."
The idea of preparing the current generation for the future sounds effective, but students continue to question why the curriculum has not reflected this motive. The homeroom lesson on Dec. 15 centered around the need for inclusive language. A document was sent out with language that was evidently 'exclusive.' All students were asked to review and revise the sentences to ensure they became inclusive. One example that was given was, "That's crazy! He scored that touchdown." Students were informed that the word "crazy" in a sentence could potentially offend a mentally ill person. Yet this claim has various issues. For instance, anyone who would bother to look up the correct definition of "crazy" would see that Merriam-Webster has two definitions for the word, with the second defining the word as; "being extremely enthusiastic." Therefore, talking about scoring a touchdown has absolutely no relation to offending anyone. Teachers who preach otherwise contribute to undermining discriminatory sayings that actually are offensive to certain groups and people.
Sentences that continued to be shown as exclusive included the example; "It's lame that my parents won't let me stay out late." Many students did not realize why this statement was supposedly exclusive until it was later clarified that "lame" can be defined as someone who has a disability impairing them to walk correctly. Yet, once more, Merriam-Webster defines the word in context as "uninspiring and dull." Anyone who has the tiniest bit of common sense will be the first to say that your parents not letting you stay out has absolutely no direct correlation to not being able to walk.
As humans have evolved throughout history, words, languages, and meanings have changed as well. Blindly following the curriculum that homeroom offers does not solve past errors. While trying to erase words like "crazy," "lame," and "guys" from one's vocabulary may seem like one is changing the world, the truth is evident; it is merely a mitigated attempt to pin the blame onto students, and shun them for supposedly "offensive" remarks that in reality, are truly quite innocent and light-hearted.
Finally, homeroom's attempts to ensure inclusive language was taught did not get its point across. Towards the end of the class, students from various classes with a wide range of teachers were questioning why factual statements like "she is diabetic and always in the hospital" were asked to be reworded. An adequate response has yet to be delivered.
In a world of economic hardship where 46% of Americans face issues with learning how to pay off credit card loan debt, and where 43 million college students face student loan debt, while nearly half of Americans don't have enough cash to even cover a $400 emergency, homeroom curriculum could better spend its resources focusing on issues like personal finance to prepare students for the real world after graduation. This is something that has not been seen, and because of it, many CHS students feel misrepresented within homeroom. Yet if the class truly cares about the general welfare of students, they would strive to implement aspects like this into their own weekly lessons.
In an interview with both homeroom coordinators, it was clarified that despite controversy against the class, CHS students do have a part in helping choose which topics are taught. When asked if student input was common, the response given was a clear yes.
However, even if this was true in the past, it is evident that students now feel differently. In a Wolfpacket Instagram poll that asked whether students enjoyed the curriculum that is being taught in homeroom, an overwhelming majority of 93% of students responded "no." CHS students continuously feel silenced by this controversial curriculum, and it is clear that the curriculum does nothing to create a sustainable atmosphere or to prepare students for any future endeavors. Yet before concluding the interview, Fowler made it clear that homeroom is, for the most part, beneficial to students.
"I'd like to emphasize the why; I think at Claremont High School, so many things change over so quickly, and we're onto the next thing, and I think if we can get back to the why of what is important for students and what is important for staff, that people might really see the value in homeroom," Fowler said.
Yet for CHS students, "why" isn't the issue. The issue is that the Homeroom curriculum chooses the "why" for students rather than allowing them to discover it themselves.
Throughout the past few weeks, I was under the impression that I was the only student who did not see homeroom as the "safe space" that it was supposed to be. My decision to speak out against the curriculum came only after my fellow peers started to voice their opinions. In unison with my very own thoughts, students continuously feel silenced, shunned, and shamed from homeroom curriculum, and it is evidently clear that something needs to change.
I guess that I'm not "crazy" after all.
Hello there! Our goal is to provide relavent, engaging journalism for readers of all ages. Your donation will support the student journalists of the Wolfpacket at Claremont High School, and will allow us to purchase equipment, print our monthly issues, and enter in journalism competitions. We appreciate your consideration!
About the Contributor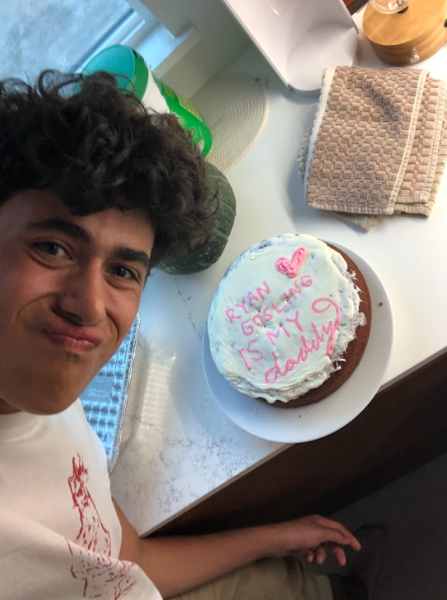 Lucas Grannis, Head Opinions Editor
Lucas Grannis is a Junior at Claremont High School, and a third year staff member on the Wolfpacket. He currently holds the position of Head Opinions Editor...