Spending Hanukkah in Santa Monica? Be prepared for the workload when you get back
On September 26th and 27th of 2022, millions of people around the world celebrated Rosh Hashanah, welcoming the start of the Jewish New Year and of the ten Days of Awe, ending the celebrations with Yom Kippur on October 5th. Rosh Hashanah and Yom Kippur are two of the most important holidays in Judaism, yet for many Jewish students at CHS, these days were marked by an excess of school work-related stress. Jewish seniors were particularly disadvantaged due to the fact that September 26th, Rosh Hashanah, was the last day to request letters of recommendation for college applications.
This was not the first time or last time that students with religious responsibilities have felt left behind by the school system. Especially for students of non-Christian faiths, struggling to balance religious duties with school workloads while getting limited support from the school itself is a common experience.
Utsav Gupta, a CHS junior, took Monday, October 24th off of school to celebrate Diwali, the Hindu Festival of Lights, but found keeping up with his schoolwork in the meantime to be excessively difficult.
"It is really hard and it's kind of annoying, because I had to sit down at home on what is for me a kind of Christmas and work for four hours, and I'm still not caught up," Gupta said, "So do I feel supported by the school? Not really."
Madison Melocoton, another junior at CHS, started a petition to generally improve CHS's policies regarding religious holidays in September after struggling to keep up with schoolwork while commemorating the Jewish holy days.
"Religion shouldn't impair any individual's ability to complete schoolwork or take part in school and I feel like a lot religious students, our Muslim students, our Jewish students, have been kind of disadvantaged because there have been no reasonable or sufficient accommodations," Melocoton said.
Melocoton also cast light on the impact fasting can have on schoolwork. A number of religious holidays including Ramadan and Yom Kippur require able adults and teenagers to abstain from eating or drinking throughout the holiday. For students experiencing a lack of normal nutrition during the day as a part of their religion, schoolwork can be especially burdensome. For both holidays, fasting is broken at nightfall, yet the one time of day that students do receive nutrition and celebrate with friends and family is also the time they are expected to do all of their homework.
Beheshta Akhgar, a Muslim junior at CHS, echoed the experience of struggling to balance schoolwork with faith, and pointed out that Christian students are often not faced with this expectation the way students of other religions are.
"You notice we have like, Thanksgiving break, Winter break, all of these huge long breaks centered around a lot of Christian holidays, but then for Jewish holidays, Muslim, Buddhist, Hindu… there's no break for it at all." Akhgar said.
Grace CadwalladerOlsker, a Christian senior, reverberated Akhgar's sentiment, saying that she had never felt much difficulty at all keeping up with her schoolwork while practicing her religion considering how the Sabbath occurs outside of the school week.
"Even with like the Sabbath… with the Saturdays and Sundays being off for the weekend, that's when Christians have their traditional days of rest." CadwalladerOlsker said.
Akhgar noted that the school system not taking the needs of religious students into account is not only a CUSD problem, but a problem in education nationwide. Last year, CollegeBoard scheduled four exams: AP Japanese Language, AP Government, AP Chemistry, and AP Spanish Literature, on the same day as Eid al-Fitr, the culmination of the month-long Ramadan. This caused thousands of Muslim students to choose between taking the exam on one of the most important holy days of the year or going through the hassle of getting approved for an exemption and missing more school.
Within the school district, students can request extensions for most schoolwork on religious holidays. CHS's Parent-Student Handbook claims that students are supposed to be able to get absences excused for religious celebrations, however, the extensions granted are not always adequate. When they are granted they can often be insufficient and the process of requesting them can place an undue burden on the students.
"It can just be tough to like, have to walk up cause you can see someone judging you," Gupta said. "Because, in their eyes it's like you're not sick, you might as well just come to school, but like how would you feel if someone told you to go to school on Christmas?"
Gupta, Akhgar, and Melocoton all felt that religious students would benefit from schools and staff taking the initiative to learn about different religious holidays and implementing more gracious and organized extension policies for those who celebrate those holidays.
"Everyone deserves to practice what they believe." CadwalladerOlsker said.
Gupta and CadwalladerOlsker both emphasized that they felt that compassion and empathy were important parts of the solution.
"If everyone could be a little kinder, I think we'd all be a little happier." Gupta said.
About the Writer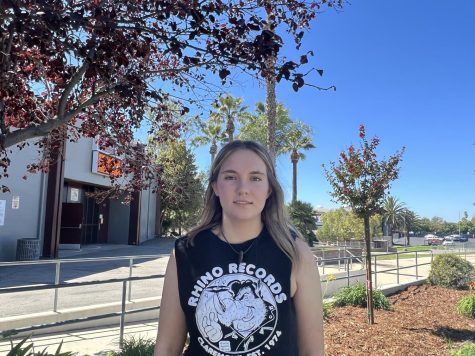 Kat Griswold, Reporter
Kat Griswold, a senior at CHS, is a reporter for The Wolfpacket this year. Her excitement for Wolfpacket stems from a number of things, such as her enjoyment...