CHS athletics faces unprecedented coach turnover
Over the course of this year, the CHS athletic department has faced an unprecedented coach turnover. In total, six different sports have had to bid goodbye to their head coaches. Some coaches retired, others moved away, and still others were not a great fit for their various CHS teams. While this is not a harbinger of the fall of CHS' great sports organization, a loss such as this is nothing to scoff at, and many wonder what is really going on.
One of the challenges of coaching, is that the majority of coaches at CHS commute in from other jobs, to work with their athletes. Because high school coaching is not a career for most working individuals, coaches are often forced to leave for financial reasons. This tends to threaten the longevity of the coaching staff and this exact problem is what caused upset in and around the new CHS pool.
The beginning of the fall season saw an unexpected resignation from head boys water polo coach Kristen Rodriguez, who received a higher paying job offer from Alta Loma as a coach and full time teacher. Her resignation was unexpected and caused a bit of an upset for the Athletics department. Fortunately, a parent of a water polo senior stepped in as interim head coach, taking boys water polo all the way to CIF playoffs. However he, and the team felt that he was unfit to continue in the position another year. Also in the swim section of the athletics department was the unexpected resignation from former head swim coach Linsey Brown who moved to San Francisco with her family following a job opportunity given to her husband. Luckily both water sports will now be directed by Girls Water Polo head coach Gary Cheever. This is not uncommon for high school water sports, and this situation is only now being adopted because coach Brown was never interested in being the sole head coach for all the water sports.
CHS is proud of the longevity that they have seen from many of their head coaches, who have put in decades of hard work with their teams watching generations of students come a go. However, at some point these coaches too must go.
Last year's track season ended with the retirement of Coach Veronica Amarasekara. Coach V, as she was better known, was a retired teacher, who had been coaching the CHS track season for over twenty years, and was ready to move on her way. Her retirement was soon followed by that of head cross country coach Bill Reeves. Coach Reeves' retirement was covered in the 3rd issue of the 2021-22 school year. In cross country, Coach Chis Ramirez, an assistant coach during Reeves' time has replaced the former coach as the new head coach. In track the position of head coach has finally been filled, despite the position being open for a full year, the athletic department did struggle to find a replacement to fill the job left open by the retirement of Coach V. There was much concern and confusion between track athletes over this open position as the track season approached, but such concerns have since been calmed just in time for the season to begin. The search ended when former CHS track and football star reached out to Athletic Director Collins about the job offer. Clydens Deelani, was hired as an assistant coach but he brought along with him the new head track coach Ernest Greg Wa. See Running Into a New Future for more details on the track position.
The most disruption, however, has come from the recent resignations of the girls head basketball and head softball coaches. The head softball coach, Brian Ota, resigned before the season's official start, after only four years in the position, citing old age. The head coach position has since been replaced by Coach Alex Alaniz, who was already working as an assistant coach for the softball team. Her promotion has brought stability once again to the team.
The transfer of coaching in girls Basketball was a little more dramatic. After protest of his coaching style from players on the varsity team, the girls head basketball coach Mike James resigned just prior to the beginning of the league season. Earlier in the pre-season he created a tense environment that led four players on the varsity team to boycott the old coach especially for his toxic attitude toward players. Thankfully their protests were heard and the athletics department took action, encouraging his resignation.
"You stay coaching a long time when you treat the team right, you respect them, you coach them hard, coach them to be winners, to be the best they can be, but winning is not everything," Athletic director Collins said. "Being a good sportsman, a good teammate, a good son, a good daughter, that's what's important."
Because the leaving of coach James was abrupt, the department did not have the time to search for a replacement coach. However, beloved counselor Mr. Anderson stepped up to the plate and assumed the vacant role. After already half a season of strife many players and parents were delighted by this change.
"The environment switched from being kind of tense to being empowered to enjoy practice and that helped us be better as a team" Ella Kuriyama, a senior on the girls Basketball team, said.
Though four of the head coach openings, in track, softball, girls basketball, and swim were all unexpected, the department has already hired people to fill many of the empty positions. Currently, all of the positions that opened this year have been filled by talented coaches that will bring greatness to the Wolfpack.
About the Contributor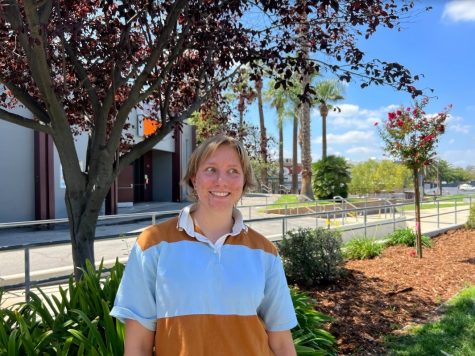 Carrie Anne Little, Assistant New Editor
This year Carrie Anne Little is a junior at CHS and is back for her second year as part of the WOLFPACKET staff. This year she is an assistant-News editor...