Homecoming Princess – Emma Brandt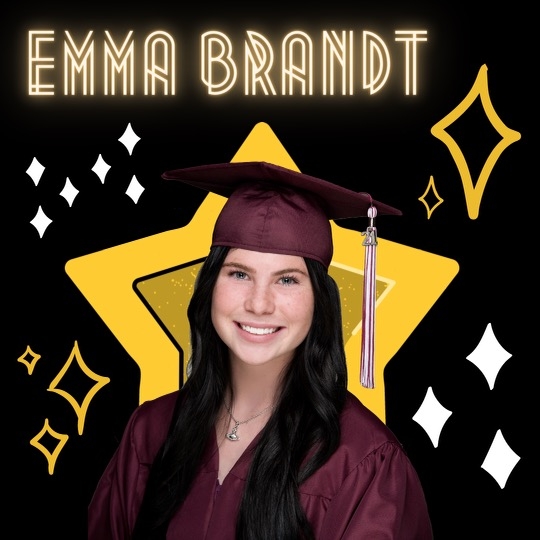 Charismatic and ambitious homecoming princess, Emma Brandt is always ready to try and experience something new. During her time spent at CHS, Brandt has taken part in a variety of extracurricular activities.
Over the past four years, she has participated in volleyball, swim, cross country, link crew, environmental justice club, and ASB. She reflected on why being involved was important to her as she developed valuable friendships through them.
"My favorite memory was definitely meeting a bunch of people!" Brandt said. "I was new to Claremont so [these extracurriculars were] how I met new people and I have met all of my best friends through them!"
While Brandt misses the in-person experience of being at school, she has made the most of her quarantine by efficiently utilizing the extra time that online learning provides. She has been productive during quarantine as she has explored and deepened her interests through her hobbies. In her free time, Brandt enjoys photography, yoga, painting, online shopping, redecorating her room, watching new movies, and snowboarding.
Brandt has a lot in store for the future as many opportunities and options await her. She has many interests in an array of potential careers as she aspires to become an interior designer, hairdresser, or flight attendant.
"I have wanted to be an interior designer for a very long time," Brandt said. "I love colors and patterns a lot and making unique combinations has always been really fun for me! As for a hairdresser, I started dying my hair in junior year myself; so I started getting really into it. Being a flight attendant sounds really cool and interesting because they get to travel a lot!"
Brandt's next step following high school is to attend a fun college and receive a cosmetology license. She looks forward to traveling to Ireland to learn more about her family history and the country.
In this unforgettable homecoming experience, Brandt was initially shocked by her nomination but overall feels excited and happy. She also gives a shout out to her younger brother, Wyatt Brandt. Brandt's future is bright as she continues to explore are pursue her passions.