jxdn: TikToker Turned Rockstar Signs to DTA Records
In this generation, full of TikTok and Instagram influencers, it is no shock that there is a multitude of talent within these apps. The platforms allow social media influencers to showcase their talents to large audiences. However, one influencer in particular is breaking free from the social media shell and diving into more serious platforms, releasing songs and music videos, and even getting signed to a record label. This rockstar is named Jaden Hossler, and his name is only just beginning to be heard.
Jaden Hossler, more commonly known by his stage name, jxdn, joined social media in early 2019. In an interview with Heard Well, Hossler explains that his intentions were to get big online, as he lived in such a small, enclosed town in Tennessee.
"I actually did start [social media] to blow up," Hossler said. "I was just really tired of where I lived, and I was in a really bad place [of mind].. my friend told me to do this and try this app, so I said 'okay.'"
Hossler gained immediate attention for his comedic TikToks with his family, as well as essentially being an attractive male to his audience primarily of young girls. He grew so much attention that he was offered to go on the Lights Out tour — a 'tour' that was substantially a group of TikTok boys having meet and greets with their fans. From there, his popularity seemed to increase daily.
However, Hossler is breaking beyond the average TikTok boy shell, moving past doing 15-second dances and skits, and becoming more serious with his career. In a Zach Sang interview in Feb., Hossler explained that he wanted to become serious with music, moving past the stereotype of cringe TikTok boys, with a dream to change the world one song at a time, and he has continued to do so.
"As a TikToker, y'know, like people think, 'oh he's a TikToker; he's just gonna make music, whatever.' Rock really settles with me [and the audience], because it varies between pop-rock, alternative, and stuff, and so I think my music is going to be very influential in our generation," Hossler said. "Everyone wants to feel a part of something, so that's what I want to do with my music."
The same month, Hossler released his first single, "Comatose," on Feb. 26, as an unsigned artist. "Comatose," essentially a breakup song about a previous ex, has an alternative-rock style, with bass guitar in the back, and catchy lyrics that include, "I don't care enough to miss you, after all the s**t we've been through, my heart's comatose, comatose." The song grew major attention from not only his fans, but from the whole TikTok app as well. He then released the music video on Mar. 4, which garnered even more popularity. The song currently has over 10 million streams on Spotify alone, and the music video has over 7.5 million views.
After seeing such massive buzz and approval from "Comatose," Hossler continued to write more songs. Teasing his audience with the idea of new music launching soon, Hossler would release 10-20 second snippets of new songs, even playing a half of a song on a TikTok live that was said to be "coming out soon."
On May 12, Hossler posted a 5-second clip of what seemed to be the intro of a new song, with the caption, "ok so it's happening <3 19th." That week, he would continue posting teasers similar to this, except one post essentially caught many eyes: a post with the well-known musician Travis Barker, who was known for his talent on the drums, featuring in popular artists' songs. The post featured Barker playing on the drums to the song, which Hossler called "Angels & Demons." On May 19, Hossler released the single along with the music video. The song consists of the same alternative-rock beat, except with more of a darker meaning; the "angels and demons" represent his mental health, as he sings about not feeling the same and not being able to escape "it." Lyrics include, "and all these angels and demons keep shouting and screaming, I'm falling from Eden…" His post, which fans expected to be another regular post explaining the single was out, turned out to be much more.
"God is Good <3 blessed to say that i have signed with DTA Records! cannot thank my brother travis enough for realizing i just wanna change the world one song at a time! with that said, the entire DTA team and myself would like to give you ANGELS & DEMONS <3 out now on all platforms!" Hossler posted.
The song has gained 5 million streams on YouTube in four days, which is a massive spike for Hossler.
Jaden Hossler, once a small-town Tennessee boy, is now changing the music platform day by day. His alternative rock songs not only talk about the hardships of breakups and toxic exes, but also mental health and the 'demons' that keep "shouting and screaming." As Hossler sings, don't forget his name– the rockstar's name is likely to come up again soon.
Hello there! Our goal is to provide relavent, engaging journalism for readers of all ages. Your donation will support the student journalists of the Wolfpacket at Claremont High School, and will allow us to purchase equipment, print our monthly issues, and enter in journalism competitions. We appreciate your consideration!
About the Contributor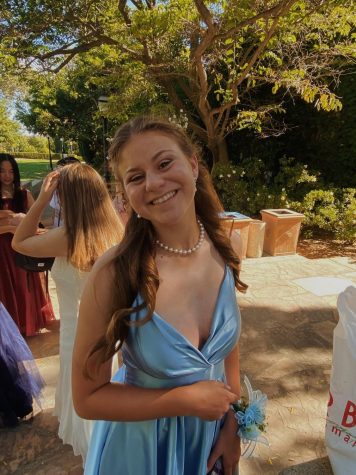 Casey Shoultz, Head Sports Editor
If you have explored Instagram in the vast few months, there is only one person that has continuously posted updates from their favorite musical artists...