Neon Moon Art Supply
Bright bold colors and dashing pieces cover the walls of a vibrant little art store that has just opened in Claremont. The moment one walks in, they are greeted by this charming interior. Gadgets and trinkets line the shelves with a vast window's light allowing sunshine to pour in. The walls are all different colors, drawing the eyes toward so many different aspects of the store and simultaneously representing the feeling of the boutique. However, not only do the looks of the store show its appeal, so do the people. The community that the art store is building amongst citizens and artists in Claremont is lively. On the corner of 1st street in the Claremont Village lies this inviting, yet eccentric art store: Neon Moon Art Supply.
Xrstine Franco and Ilir Zeneli opened this quaint art store with a dream of building an art community in Claremont, which had not housed any art store prior to Neon Moon Art Supply. Being Franco and Zeneli's favorite city, Claremont was the perfect location to open up their dream store. Unfortunately, the two had just signed the lease and then shortly after the pandemic struck. Like many local and small businesses, struggles ensued. During these difficult times, their landlord made a kind gesture and cut their rent in half which enabled Franco and Zeneli to continue with the business.
"The world sets your timings, we signed our lease and then the pandemic happened," Franco said. "We were able to weather the pandemic and now whatever losses we had were kind of starting to get back."
Throughout the entire pandemic, the two never gave up and kept finding ways to keep the store afloat. Now with business starting to bloom again, the work has paid off. Neon Moon Art Supply is well on its way to creating a welcoming space for the art community.
"I think it goes back and forth, because we get into a lot of conversations about art and in general just super positive energy," Franco said. "I love Claremont, I've always loved Claremont, but when you really talk to all the people, even randomly, just customers, you see why it's such a great place. It's the people."
Both with art degrees, Franco and Zeneli encourage young artists to chase after their passions by setting a living example of the amazing things you can and should pursue. Neon Moon Art Supply is for anyone who wants to experiment with creativity, chase artistic dreams, or even just have fun. Franco had mentioned that she wanted to create an art community and is proving to do just that, with the colorful and inspirational messages the neat little boutique gives. Art has changed her life, and now she and her partner are working to change other's lives too.
"There are so many opportunities in art, because art is everything," Franco said. "When parents tell kids like I was told, 'Why do you want to do that, it's only one in a million to get famous with your painting or your photography?' Yeah, why not take that shot? Why not dream? But you can always work in the art industry and do it at the same time."
With businesses opening back up, new possibilities and new journeys will be forged. Neon Moon Art has persevered and the exquisite boutique is waiting on the corner of first street for inspired young minds and creators.
About the Contributor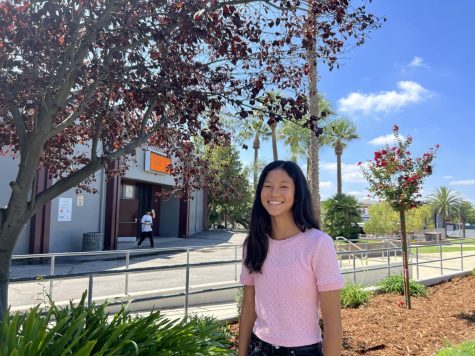 Isabelle Shie, Assistant A&E Editor
Isabelle Shie is a sophomore and the assistant A&E editor for the Wolfpacket. Apart from the paper, Isabelle is on the cross country team as well as...