New program started by Claremont High students offers free grocery delivery for elderly residents of Claremont
As the current COVID-19 pandemic continues to spread while showing no signs of slowing down, the question "What can I do to help?" has become common in the lives of many. This exact question is what crossed my mind when I decided to team up with Salma Mohideen, another junior at Claremont High school, to start a non-profit online platform called "Claremont Fresh," a volunteer program that matches low-risk volunteers to Claremont residents in need of assistance for to grocery shopping or running simple errands.
The idea of starting "Claremont Fresh" came about when I noticed that many elderly residents of Claremont were unable to visit grocery stores or other convenience stores due to the high risk of exposure to COVID-19 at those locations. Though there are many platforms such as "Amazon Fresh" and "Postmates" that do food and grocery delivery services, those services often come at a cost. After this observation, we decided to collaborate to start an organization that would specialize in providing the much-needed service of delivering groceries and other basic necessities to Claremont residents free of a delivery charge.
"The well-being of the Claremont community is important to us and we wanted to find a way to support that," Jiang said. "We started 'Claremont Fresh' to help protect at-risk members of our community and help out however we can."
On the "Claremont Fresh" website, low-risk residents of Claremont can sign up to volunteer and offer their services to other individuals who are in need of help with shopping for groceries, toiletries, and other basic supplies. After signing up, "Claremont Fresh" matches a volunteer with an individual in need of assistance. Once the match is made, the volunteer will pick up and deliver the items that have been requested by their match. After dropping off the groceries the resident can pay for them by leaving cash or a check in an envelope or through Venmo.
"Claremont Fresh" has communicated with and gotten inspiration from similar platforms such as "Feedmont" and "MVhelps," two northern California organizations that are providing grocery delivery services to their communities in Piedmont and Mountain View, California. By communicating with these other platforms, "Claremont Fresh" has been able to develop the safest way to provide grocery delivery.
"Communicating with other similar organizations has been vital to making sure that we are operating in the safest and most efficient way possible," Mohideen said. "We definitely could not have done it without their advice and help."
By asking the simple question, "What can I do to help?" "Claremont Fresh" has been able to find a way to make a difference in the community and improve the well-being of Claremont residents. We have high hopes that the program will be able to mitigate the spread of COVID-19 in Claremont and help protect the people who are more vulnerable at this time.
For more information visit: https://www.claremontfresh.org/ or follow: https://www.instagram.com/claremontfresh_ca/ on Instagram.
Hello there! Our goal is to provide relavent, engaging journalism for readers of all ages. Your donation will support the student journalists of the Wolfpacket at Claremont High School, and will allow us to purchase equipment, print our monthly issues, and enter in journalism competitions. We appreciate your consideration!
About the Contributor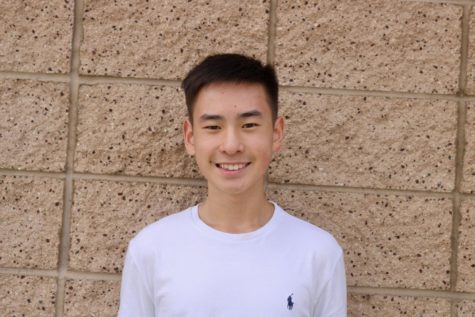 Charles Jiang, Head News Editor, Business Manager
Charles Jiang is a senior at Claremont High School currently serving in his fourth year on the Wolfpacket as the Head News Editor. Throughout his years...