Mr. Hernandez to Be New ASB Director
The Associated Student Body (ASB) has never failed to impress CHS students with planning fun activities and managing events that foster school spirit. The mission of ASB is to bring CHS students and staff together. This will be safeguarded by the new incoming ASB director Octavio Hernandez. Although CHS's current director Jack Harper has set an inimitable precedent, he will be retiring this year and replaced with Hernandez who hopes to continue ASB's commitment to excellence by building the already tight-knit community of students and staff at CHS.
Hernandez has taught at CHS since October of 2009. He has coached the Boys' Golf team here for three years and the Girls' Golf team for eight. He was the social science department chair for two years and is a member of our school's PBIS team. He has even had a large amount of experience with clubs and advising. All these past positions and experiences as a coach show how prepared and ready he is for ASB Director.
"It [ASB director] seemed like a great opportunity to work with students in a different way than I have worked with them in the past," Hernandez said.
As Hernandez is ready for his next transition in his career, he is excited to be working with the student community to direct the ASB program. He applied for the director position because of his passion to work with students, hoping to continue the excellent program that Mr. Harper has established at CHS. Hernandez still has to see what is yet to come, but he has his mind set on overcoming any potential obstacle.
"ASB is like the glue that brings so many different parts of this great school together," Hernandez said. "I love CHS, and I want to improve the experience of its community members while I am here. That includes both its students and staff."
He will work with Mr. Harper this year to learn as much as possible to prepare himself for the upcoming year. He feels he is ready to take on any challenges he may face, but still is eager to learn more about the position.
As current ASB Director Harper retires, CHS hopes that Hernandez will follow in his footsteps and do everything he can to make the next school year one to remember.
Hello there! Our goal is to provide relavent, engaging journalism for readers of all ages. Your donation will support the student journalists of the Wolfpacket at Claremont High School, and will allow us to purchase equipment, print our monthly issues, and enter in journalism competitions. We appreciate your consideration!
About the Contributor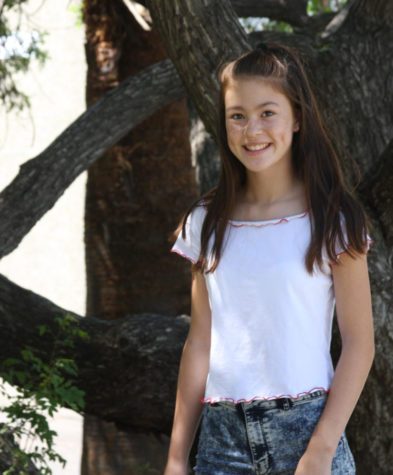 makayla Oas, Reporter
Makayla Oas is a freshman at CHS and it is her first year on the Wolfpacket as a reporter.