"A hard conversation": a letter to Tropical Lei
Dear Tropical Lei,
I am writing to you in regards to your marque. For years, pre-pandemic, it has been a source of amusement and an educational tool for many new readers driving along Foothill blvd. between Claremont and Upland. Your questionable innuendos relating to holidays and current events have for years caused panic amongst parents, unsure how to obfuscate your sometimes too unsubtle implications to the precocious young readers in their back seats, and have brought delight to the impolite society among us.
Explaining remarks such as "cup our pokéballs" during the Pokémon GO craze to seven year-olds encouraged parents to engage in conversations on both current event topics and the essential beginnings to a lifelong sexual education. Such time sensitive material kept parents from being able to ignore the burgeoning sexuality of the local youth relative to their vehicle while on their journey to dentist appointments and the like.
Even during the pandemic quarantine era, though you were shut down, your sign remained a beacon of hope to the community. Instead of insinuations to advertise your services, you encouraged us to follow protocols. Your marque inspired us to mask up and resurrect our lives.
"
You have the power to be a healing influence. We may not be able to touch, but you can.
Ever since then, your sign has lost touch. From "Ho Ho Ho" and "let Mrs. Claus sit on your lap", to "fully nude show girls", your sign is simply not the same. Furthermore, it has not been updated for at least a year! However, will I know when it is melon season? Or where the best place to pitch a tent is? What to do when I am thirsty during the summer? Or even when to come down and join the fun?
Of all the tragedy amid the pandemic, death, prolonged health issues, unemployment and more, this has been the greatest travesty of all.
Imagine the neglected education of the online learners. These young people were stuck at home, with the sterilized internet provided by school iPads and parents blissfully protected from difficult conversations. Under such conditions they are apt to the dangers of repression and ignorance. But this issue can easily be rectified. You have the power to be a healing influence. We may not be able to touch, but you can.
A Concerned Learner,
Asst. News Editor
Carrie Little
Hello there! Our goal is to provide relavent, engaging journalism for readers of all ages. Your donation will support the student journalists of the Wolfpacket at Claremont High School, and will allow us to purchase equipment, print our monthly issues, and enter in journalism competitions. We appreciate your consideration!
About the Contributor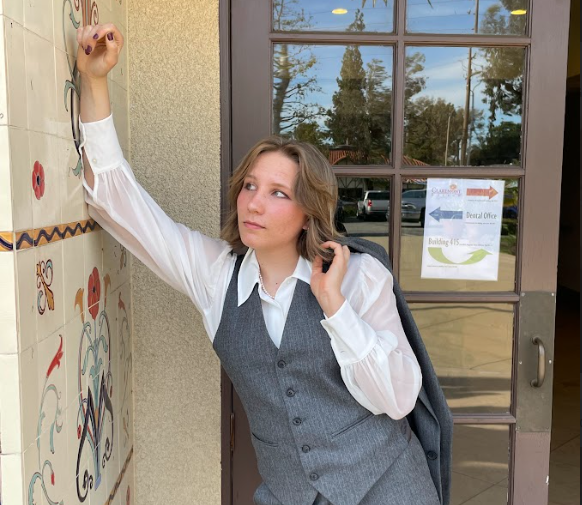 Carrie Anne Little, Editor-In-Chief
Carrie Anne Little is a senior at Claremont High school, and the Editor in Chief for The Wolfpacket. She is a partial IB student, enrolled in the IB english...