This Is Why We Can't Have Nice Things: The Taylor Swift Ticketmaster Debacle
On November 15, 2022, millions of Swifties logged onto Ticketmaster, an online ticket sale and distribution company, and waited in an enormous queue for Taylor Swift's presale for "The Eras Tour." The number of people in the queue overloaded the servers and specific cities on her tour — Los Angeles, Las Vegas, Santa Clara, and Seattle — had their presale moved to four hours later than the planned time.
Unsurprisingly, Ticketmaster crashed for the second time two hours before the presale opened. At this point, the site had crashed so many times for individuals that fans were not even sure they could get tickets. At 3 p.m. PST (Pacific Standard Time), the site had finally rebooted for the LA, Las Vegas, Santa Clara, and Seattle shows. By the end of the presale, almost all the tickets were completely sold out.
A day later, the Capital One presale, which was set to sell more tickets, had the same issues as the verified
presale. The site crashed a singular time before the queue was up and running, and in two hours all the tickets across the tour were sold out.
According to a tweet made by Ticketmaster, there were not enough tickets to meet the high demand on the ticketing systems, and they simply did not have enough tickets left in their inventory to sell to the general public. The company announced the cancellation just hours after the CEO of Live Nation, a company that merged with Ticketmaster and promotes concerts and music festivals, the largest shareholder made a statement blaming bots for site disruptions and slowed queues for presale.
Allegedly, according to Liberty Media, a mass entertainment company that owns SiriusXM, chief, and Greg Maffei, the site was only supposed to be open to 1.5 million verified Swift fans; however, Ticketmaster sold over two million tickets. Many fans were disturbed by the fact that Ticketmaster was so unorganized and unprepared for the high demand. Now, over two dozen Taylor Swift fans are suing Ticketmaster and Live Nation Entertainment for "unlawful conduct," claiming that the ticketing giant violated antitrust laws among others.
The lawsuit consists of fans stating that Ticketmaster allegedly was anti-competitive, imposing higher prices on fans in the presale, sale, and resale market. The filing also claims that Ticketmaster "intentionally and purposefully misled ticket purchasers by allowing bots and scalpers to access Taylor Swift's ticket presale."
Ticketmaster said back, blaming the unexpected demand on the number of bots and scalpers in the queue. The overload of people in the queue overwhelmed its servers and caused the tour to sell out prematurely. In the fan lawsuit, they accused the company of providing too many codes for the presale when it could not satisfy the ticket demand. The codes were given to every single person who qualified for presale which was over 5 million people.
Fans sought a penalty of $2,500 for each violation, which could end up being millions of dollars from Ticketmaster based on the millions of angered fans who did not receive tickets. They filed a 33-page complaint to the Superior Court of California, which resulted in lawmakers breaking up the 2010 merger of Ticketmaster and Live Nation. The merger was an agreement with Ticketmaster and Live Nation which would encourage competition and bring prices down. In this case, they were wrong.
Almost a day after the general sale was canceled, Swift made an official statement on Instagram. She apologized to her fans and directed many attacks at Ticketmaster for being unprepared.
"It's really difficult for me to trust an outside entity with these relationships and loyalties, and excruciating for me just to watch mistakes happen with no recourse," Swift said. "There are a multitude of reasons why people had such a hard time trying to get tickets and I'm trying to figure out how this situation can be improved moving forward. I'm not going to make excuses for anyone because we asked them, multiple times, if they could handle this kind of demand and we were assured they could. It's truly amazing that 2.4 million people got tickets, but it really pisses me off that a lot of them feel like they went through several bear attacks to get them."
The future of Ticketmaster and Live Nation now is all in the hands of the outcome of this court case. While "The Eras Tour" is scheduled to go on without any complications, however, it is unsure right now whether Ticketmaster comes out of the court case completely unscathed.
Another rising problem with Swift's tour is the resellers. Resellers and bots bought large amounts of tickets and resold them to second-party websites such as Seatgeek or Stub Hub. Many of these tickets were resold for almost twice as much as the original prices. Some concert seats even are still reselling for as high as 90 thousand dollars per ticket, simply just for a floor seat.
While these seats offer incredible views of the stage, many fans are enraged that the price of the tickets is beyond what they had expected. The original ticket prices released by Ticketmaster were said to start at $49 for general admission and VIP packages at $199. Being Swift's first tour since her Reputation tour in 2018, the demand for tickets was immense and there was "bad blood" fighting over who would be able to get one. Unfortunately, because of resellers and bots buying most, if not all, of the VIP packages, the tickets sold can now cost over ten thousand dollars.
It is incredible how in just a few hours, millions of people from around the world sold out for what is sure to be one of the biggest events of this year. With a total of 52 shows on the Eras tour, fans are anxious and excitedly waiting for the date they can experience their "wildest dreams" of seeing her in real life.
About the Contributor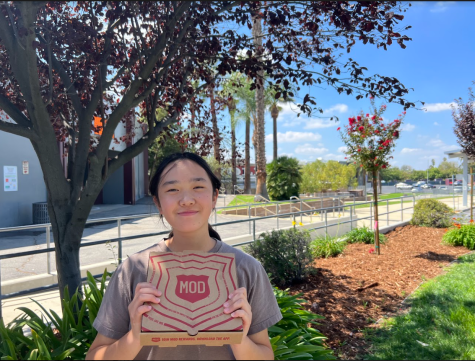 Anna Jiang, Assistant Features Editor
Anna Jiang is a sophomore at Claremont High School currently serving in her second year on the Wolfpacket as the Assistant Features Editor. Jiang enjoys...