Badminton + Tennis = Pickleball
When talking about a fun outdoor activity, what's the first thing that comes to mind? Walking a dog, playing football, having a picnic? An uncommon activity among them is none other than…pickleball. Pickleball is an outdoor sport that combines many elements of tennis, badminton, and ping pong. In fact, pickleball is actually an "improvised" sport. It was made when two dads were in an old badminton court, but they couldn't find enough rackets for a full game. So instead, they improvised using spare ping pong paddles and a wiffle ball until it turned into the sport it is today. It is an interesting game that people of all ages can enjoy.
As a matter of fact, citizens of Claremont go to Wheeler park for pickleball tournaments. Wheeler park, formerly a hockey rink, holds four full courts of pickleball and even has a place to store your pickleball rackets while you wait your turn. Not only do adult Claremont citizens go to participate in this activity, but Claremont High School students as well. Lilka Clocksin, a senior, has been playing pickleball for two years, and learned how to play the game through her father.
"My Dad has been teaching others to play for over 20 years and decided to teach us, and we ended up really liking it," Lilka Clocksin said.
Not only is pickleball good for exercise physically, but it is good for exercise emotionally as well. It can be extremely relaxing, or even competitive.
"I think that pickleball is extremely fun, even if you want to play a relaxing game. However, if you want to be more competitive, then you definitely can be. Pickleball can be played on a wide spectrum of intensity," Clocksin said.
Pickleball is a sport where experience is not needed to enjoy. It is a very fun way to get exercise, as well as having fun playing with friends.
"I absolutely love playing pickleball and would definitely recommend it because it's a great excuse to exercise and have fun," Lilka Clocksin said.
If pickleball gets more and more recognized, more people will want to play; as a result, pickleball could be turned into a club, or even an official sport.
"I think a pickleball club would be amazing! It's a great sport that doesn't require any experience, just the opportunity to play. I think students would definitely benefit from a pickleball club," Lilka Clocksin said.
Interested in trying out pickleball? Wheeler park is the place to go and have some fun with family and friends. Because tennis and badminton are great sports, pickleball is the perfect combination of the two.
About the Contributor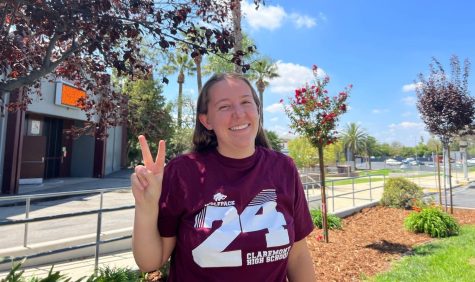 Jocelyn Hannan, Reporter
Jocelyn Hannan is a Junior and a reporter for the Wolfpacket. She loves to watch movies like Harry Potter, Marvel, Star Wars, and even Jordan Peele and...