Why Turning Red Wasn't in Theaters
"Turning Red" has become the first film in Pixar history to be created by an entirely female team, a team that collaborated for four years to produce an intimate animation quite unlike Pixar's previous creations. Domee Shi, the director, was working on films like "Inside Out" and the "Incredibles 2" when she began to doodle the beginnings of her solo-directed feature film, "Turning Red." Shi's film does not have the faraway awe of "Wall-E," nor the classic sentimentalism of "Toy Story." "Turning Red" stands on its own, brightly controversial and ever-so-fun to watch.
"Turning Red's" animation is soft, the lighting is stuck in an everlasting golden hour, and the story flows smoothly from one Toronto-based scene to the next. Although sweet at face value, the film delves into themes of intergenerational trauma, female adolescence, and true friendship.
In a podcast interview, writer Julia Cho said, "Stepping into a Pixar project, I did have this sense of like, 'This is someone's collective generational memory.' The way I've been touched by Pixar movies, and the way my kids are touched by them. And I think the thing I'm proudest of, is that we created, we hope, a film that makes anyone watching it—you know, girl or not girl—kid or parent, feel seen and understood. For me, that was always the goal. And fingers crossed, we landed it."
Disney Corporation's abrupt decision to pull "Turning Red" away from a traditional theatre release was an almost expected course of action. Shi said in reaction, "You know, it's a lot of emotions. We made this movie with the intention of it being seen on the big screen but, you know, shit happens."
Disney has firmly established a pattern of excluding Pixar-made films from the big screen, smoothly slipping away their box office status and plastering them across advertisements for their streaming service, Disney+. Think "Soul," "Luca," or "Turning Red." Their excuse is always vaguely related to the COVID-19 pandemic, while simultaneously, other Disney "permitted" films play in theaters. Think "Raya and The Last Dragon," or "Encanto." Pixar is no longer making the cut. And the reasons are stranger than one might anticipate.
So, why wasn't "Turning Red " in theaters? The recent Bob Chapek controversy may provide the answer. Walt Disney CEO, Bob Chapek, recently contributed hundreds of thousands of dollars to the Floridian HB 1557 bill- better known as the, "Don't Say Gay" bill. This donation may indicate that Disney management is prone to being uncomfortable or prejudiced against ideas that go against traditional quotas. In response to Chapek's donation, the Pixar staff circulated a letter demanding that Disney Corporation stop supporting far-right politicians, signed by "The LGBTQIA+ employees of Pixar and their allies."
All recent Pixar movies withheld from theatrical releases had a pattern of being more "open-minded." "Soul" was not an LGBTQIA+ focused film, but it was a film focused on black culture and existentialism. It was the first Pixar film to have a leading black character, and coincidentally the first Pixar film slotted into the Disney+ compromise. "Luca" was not LGBTQIA+ either, although leaned heavily on ideas of shattering toxic masculinity, and stirred rumors of a possible gay storyline. "Turning Red " also goes against the "traditional" quota by being about periods and puberty… Pixar's recognition of non-traditional subject matter may make Disney management uncomfortable. But seemingly "uncomfortable" themes are, in reality, entirely normal and need to be showcased in a broad, celebratory manner.
Themes have to be deeper than magic candles and fast-action fighting scenes. Pixar isn't afraid to cover what is real; the intense pressure to achieve, especially dealt by children from immigrant backgrounds, the unnecessary social obstacles girls face due to their periods, the intensity of breaking long-held friendships, standing up to parents, and discovering what you want to do and be– all themes proudly portrayed in "Turning Red." These themes are not radical, they are simply life. So, why were "Raya and The Last Dragon" and "Encanto" released in theaters, but not "Turning Red?" And when will Pixar Studios begin to receive the recognition it deserves?
About the Contributor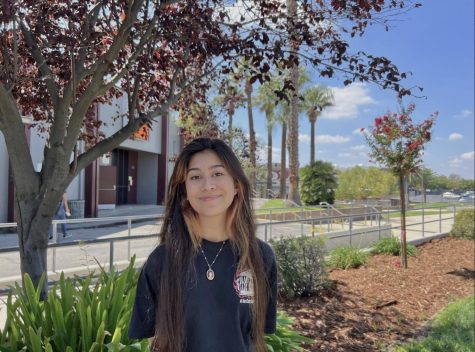 Frida Garcia, Head Features Editor
Frida Garcia is a senior at Claremont High School and the Head Features Editor of the Wolfpacket. Besides designing for the features spread, Frida's...