Caty Gaynor to gain a valuable experience running and studying kinesiology at CSUSB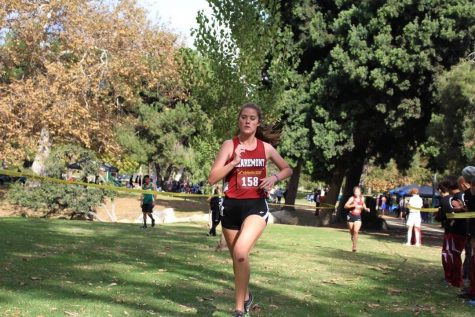 Cross-country and track runner Caty Gaynor will be making her way to Cal State University San Bernardino (CSUSB) this fall. As a coyote, she will continue her academic career in the honors program at CSUSB, and her plans are to major in kinesiology and find a career such as physical therapy or athletic training.
"I took interest in athletic training and got to learn a lot in Coach Snapp's Sports Medicine class," Gaynor said.
She was also inspired to major in kinesiology by her own involvement in running. She passionately awaits when she will be able to help people, particularly young athletes, with their injuries and rehabilitation processes.
Although she is excited to start a new chapter in her life, she will also miss many people from CHS including her friends, teachers, and coaches. The ones she will miss the most are her family, especially her two younger brothers Ian and Adam. Gaynor will cherish many of her high school memories in the future, and will make many more memories in college with her new classmates, roommates, and teammates. Gaynor has already sparked new friendships and has been in contact with her future fellow coyotes.
"Our team has zoom calls every Saturday," Gaynor said. "I am so excited to be able to run with equally motivated teammates".
The possibility of friendships made through the cross-country and track community is a big part of why Gaynor wanted to continue running in college. Gaynor has not always been just a runner. She played soccer throughout her childhood up until high school and started running cross-country her freshman year. She then joined track her junior year and knew running was the sport for her. Cross-country and track are sports that require a considerable mental fortitude, which forces athletes to push themselves farther than one could ever imagine. That is what intrigued Gaynor, and made her fall in love with the sport. Gaynor is a dedicated and driven student-athlete who will be successful on and off campus at CSUSB.