Bored in quarantine? Hop on the social media trend-wagon
During this time of social distancing and constantly being isolated from friends, it is quite normal for one to become easily bored while at home, and as a result, spend more time on social media. With people regularly going on apps like TikTok, where new trends pop up almost daily, this can stimulate one's creativity and inspiration to participate in such trends.
Quarantine trends that have been increasing in popularity recently include new dances, people dying and cutting their hair impulsively at home, painting jeans and even parts of their walls, making "quarantine matchmaking forms" using Google Forms, doing at-home photoshoots with mirrors and projectors, and many more. With the sheer amount of time students and teens have now without school and the fact that these trends are extremely easy to do, people can participate. All of these trends are easy to do at home, taking minimal effort.
The quarantine matchmaking consists of someone making a Google Form, which asks questions about yourself and what you want; questions like "Do you want a boyfriend/girlfriend or a best friend?", "What are you interested in?", and "What's your ideal first date?" are common on the form. The creator of the form will then "matchmake" you with someone with similar traits as you, in hopes of getting a "quarantine buddy." With at-home photoshoots, it is easy to get creative, as there are many different ways to do this trend. If you want a more '80s vintage effect, you can get old newspapers and tape them on your walls and floor, or if you want a more drastic look, you can try the mugshot trend. TikTok users all over the world have tried this common look; you simply get makeup to make it look like there are bruises around your face, scruff up your hair, turn flash on, and voila!
However, it is not just influencers and random teenagers across the world doing these trends; CHS students have participated as well. On a poll conducted by the Wolfpacket on Instagram, when asked if one had participated in a quarantine trend before, 90% said yes.
CHS senior Jack Safely commented on the trends, having participated in the at-home photoshoot and hair dying trend. With the photoshoot, Safely set a camera on a self-timer and took the shots in his garage, where he set up a makeshift screen to project backgrounds onto. Safely then grabbed some outfits to try out, found his favorite, and took pictures with the different types of backgrounds.
"With the hair dying, it's something I've wanted to do for a while," Safely said. "Being stuck at home gave me the chance to; plus, if I didn't like it, I figured no one would see me. I bleached my noggin and I totally vibe with it! It took a couple rounds, but now? Blonde!"
Quarantine trends have not only taken over TikTok but also have reached Instagram as well, and in a whole new way. On Instagram, when viewing one's stories, it has become a recurring theme for athletes to participate in the "#StayatHome" trend, where an athlete can juggle a roll of toilet paper with their feet or hit a golf ball into a red cup, depending on their sport. The person then challenges and tags others to do the challenge. It has gotten so big, in fact, that Instagram has added a "Challenge" sticker to add on stories.
In the midst of being in a pandemic and being away from close friends, such creative trends help us keep going during this isolation. Apps like TikTok help us make new friends and try new things, while trends like #StayatHome helps us reconnect with our friends and teammates and learn to cope with staying at home.
About the Writer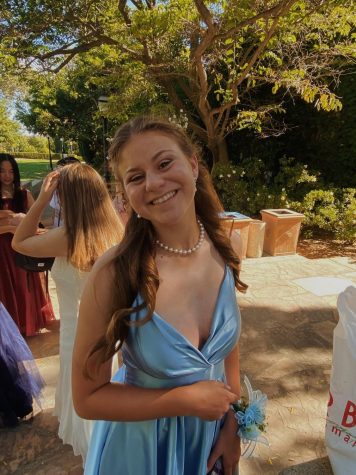 Casey Shoultz, Head Sports Editor
If you have explored Instagram in the vast few months, there is only one person that has continuously posted updates from their favorite musical artists...