Varsity basketball falls to Colony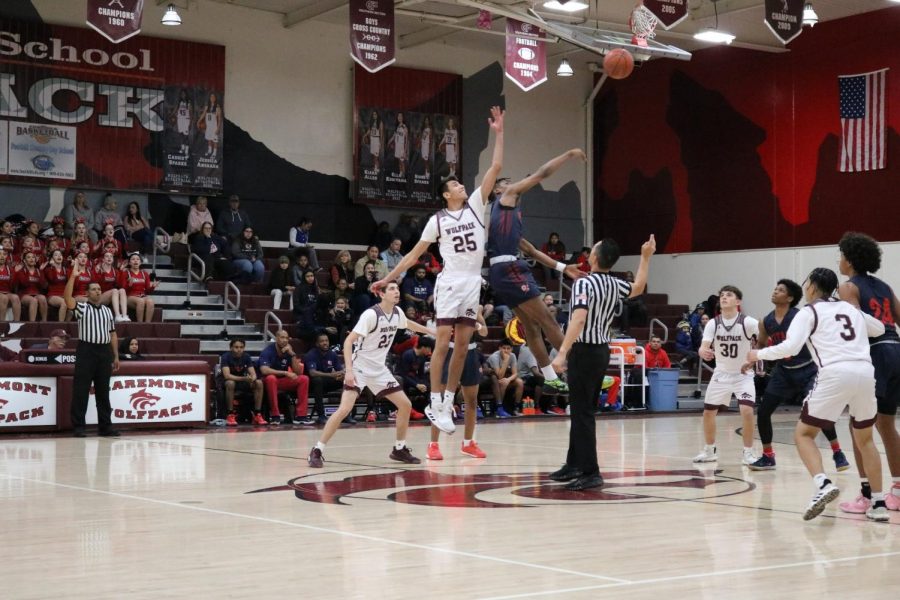 On Feb. 4, 2020, Claremont Boys' Varsity Basketball endured a tough loss to the Colony High School Titans for their last home game of the season. An exceptionally large crowd of fans attended to celebrate the seniors at their senior night.
The Pack's five starters were seniors Jacob Lopez, Frank Gower, Julian Matus, Joshua Chen, and Jake Gower. Lopez stepped up to the half court line to start the game with the tip-off. The Titans had a fast start to the game and led 7-0. Claremont took their first timeout three minutes into the game while they were down 12-4. Soon after, Lopez and Frank Gower swished Claremont's first two 3-pointers of the game. The crowd roared with excitement after each shot was made. The Titans maintained a lead of 20-16 as the first quarter came to an end. The buzzer sounded to start the second quarter, and Claremont came out with renewed intensity. Lopez muscled his way to the basket to score the first two points of the quarter. With two minutes and 30 seconds left on the clock, the Titans were winning 27-18. The Pack was fighting hard to gain back the momentum before the half was over. Unfortunately, the Pack could not gain the lead, and the first half ended with Colony up 34-23.
Claremont huddled up during halftime to go over their game plan and receive some words of encouragement from their coaches. The bleachers were still packed with supporters, and although Claremont was not in the lead, the crowd still kept the strong energy. The two teams made their way back on to the court to start the second half. The Titans were the first to put points up on the scoreboard. Claremont regained possession of the ball, and Frank Gower floated a 3-pointer into the basket for the Pack's first points of the second half. Colony pulled away with the lead during the third quarter and ended it with a lead of 54-34. Senior Boston Rubio subbed into the game during the fourth quarter and made two impressive 3-point shots. The Pack regained momentum and scored 22 points. Colony was only able to put 17 points on the board that quarter, but that was enough for them to get the win. Claremont was on their way to a comeback, but they ran out of time, and the final buzzer blew. Colony won with a final score of 71-56. The seniors had a bittersweet game on their senior night. Although the final score was not what they were hoping for, the boys played their hardest and put in all their effort while on the court.