CHS to Hold Inaugural Cultural Fair
Note: If you are coming from the print edition, skip down to the continuation, otherwise continue reading.
Students around CHS are proud to represent their heritage, and the different cultures they may come from. Each of these cultures has something to share, and many students have experienced different lifestyles from all around the world. As a result, on April 13, CHS will be hosting its first Claremont Culture Festival, in an attempt to celebrate the many cultures present at CHS. At the Claremont Culture Festival, people from all over Claremont will be able to learn about important cultures and clubs at CHS. The clubs present at the event will include will include the Asian Student Alliance, People Arts Alliance, Feminist Club, Spanish Club, French Club, Nature and Wildlife Club, Latinos Unidos for Cultural and Historical Awareness (LUCHA), Japanese Club, and German Club. Each club will display what they think is important to their culture, and also introduce fun activities for people to participate in. In addition, live music by the CHS band and others will be played at the event.
Continue reading here.
CHS junior and LUCHA club member Marcos Contreras was very excited about what the event will bring to a school like CHS. These activities will all take place at the 800 quad.
"It's a great way to gain more knowledge about different cultures and share your experiences with others as well," Contreras said. "It is a great program to have at CHS."
The event will be based on Sycamore Elementary School's annual Multicultural Day, in which Sycamore staff and parents make food, arts and crafts, and other fun activities for students to partake in. Thanks to the number of cultures in Claremont, Multicultural day has become a fun way for anyone in the community to learn more about the heritage of those around them.. Much like Sycamore's Multicultural day, the Claremont Culture Fest will have a variety of different culture-specific activities to take part in however, they aim to serve a different audience.
The Festival will tailor its means of entertainment to primarily high school students and clubs, as well as the Claremont community as a whole, as opposed to elementary students exclusively. The clubs of CHS are passionate about what they will be able to display, and plan to fully showcase the cultures that they know. Different clubs will introduce the production of culture-specific food, and also allow sampling. Specifically the LUCHA club will be teaching choreographed dances, and a chili eating contest. The French club will play music and demonstrate painting techniques, and many other clubs will also be showcasing important cultures. As a result, the event will be advertised all around Claremont, in hopes of gaining a diverse turnout that represents the citizens of Claremont. Event organizer and German Club Vice President Kevin Hamel was excited for how the festival will benefit the Claremont community and CHS clubs.
"The Claremont Culture Fest will be able to encourage people to keep learning and also benefit the clubs, as I think clubs should be able to do more for the community," Hamel said. "There are definitely ways we can give back to the community through clubs."
In addition to benefiting the Claremont community, clubs at the festival also hope to produce more broad-ranging positive effects. CHS organizations will be selling culture related items, and 25% of proceeds gained by selling different club products will be donated to support both refugees and Puerto Rican relief services. Hamel was excited to be able to offer further incentive for the community to join in on the event.
"We felt like these donations could add a greater purpose for the event and hope people will be encouraged to help out," Hamel said.
Aside from the very real messages that the Festival hopes to promote, organizers also want attendants to have a fun time. Live music and free food will be provided, and attendants will be able to seek through whichever cultures most interest them. Hopefully these factors will make the event a lasting tradition. Even though the Claremont Culture Festival will be presented for the first time, the clubs of CHS hope to present an enjoyable, yet refined event, that will benefit both the community, and the world around us.
About the Writer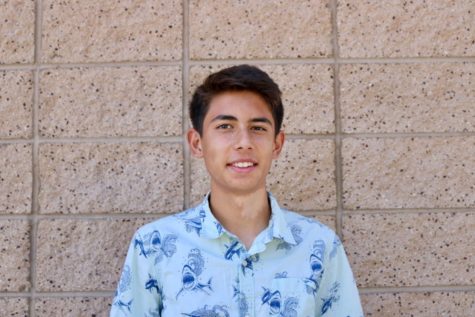 Jaden Clark, Assistant Editor-in-Chief
Jaden Clark is a senior attending Claremont High School. It is his third year on the Wolfpacket, and he is currently an Assistant Editor-in-Chief. Clark...