Santhosh sets for Singapore
Dynamic and entrepreneurial, Joseph Santhosh is graduating from CHS a year earlier than his peers and heading to the military in Singapore. Throughout his high school journey, Santhosh has embraced a wide range of experiences, exhibiting his versatile nature. From excelling in speech in debate to showcasing his athletic prowess as a member of the tennis team, and even participating in the symphony strings orchestra, Santhosh has embraced a diverse array of interests. Through these various experiences, Santhosh has found a love for math, music, and debate.
As the President and founder of the National Beta Club, and the President of the Red Cross Club, Santhosh was a leader who dedicated his time to helping others and benefiting the community. Along with being a devoted leader in his community, Santhosh has also excelled in multiple Advanced Placement and college classes, including Linear Algebra, which he took at Pomona College.
As a Singaporean citizen, Santhosh is looking forward to embarking on his mandatory national military service after graduating from high school. His Singaporean military service will span for two years and during that time Santhosh plans to get back to actively working on his musical skills and looks forward to being part of the army that maintains Singapore's safety and ensures her sovereignty.
Afterwards, Santhosh intends to continue his scholarly career after his military service and enter higher education in STEM.
"My plan [after] is to attend university and specialize in a STEM-related field, maybe computer engineering," Santhosh said.
As Santhosh prepares to bid farewell to CHS, he imparts valuable advice to his fellow students.
"Explore different subject areas and take courses that truly captivate your interest. Cultivate curiosity. Engage in the myriad of extracurricular activities CHS has to offer," Santhosh said. "And above all, maintain a positive and inquisitive mindset, as it will infuse your high school experience with energy and enjoyment."
Finally, Santhosh would like to express his gratitude and acknowledge those who have played pivotal roles in his high school journey.
"I would like to shout out Mr. Anderson, my counselor, and Dr. Mitchell, who have really supported me and assisted me in every step of my high school experience. They have helped me to grow as a student and more importantly as a person through all the complications of my unique situation, I am truly grateful to them," Santhosh said.
Furthermore, Santhosh extends his sincere appreciation to the debate team and Mr. Chamberlain, who brought him into a welcoming high school family when he was just a freshman. He believes that the speech and debate team is a close-knit and ever-growing community that embraced him with open arms.
Santhosh will thrive in his future endeavors and his presence will be dearly missed by the CHS student body and community.
Hello there! Our goal is to provide relavent, engaging journalism for readers of all ages. Your donation will support the student journalists of the Wolfpacket at Claremont High School, and will allow us to purchase equipment, print our monthly issues, and enter in journalism competitions. We appreciate your consideration!
About the Contributor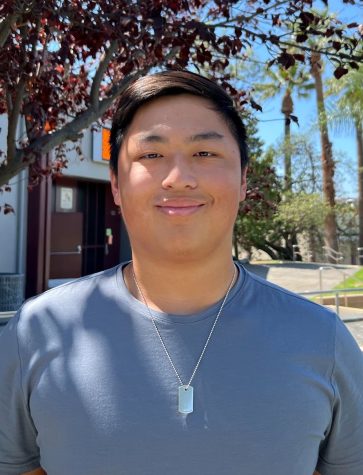 Kyle Chen, Reporter
Kyle Chen is a Junior at CHS and a reporter for the Wolfpacket. At school he enjoys hanging out with friends and participating in the esports club. His...