At age 79, Biden tested the boundaries of age in the White House. He failed.
Dear President Biden, please don't run for reelection.
Running a country is quite a feat and forgetting your train of thought mid-sentence only adds to the challenge. From his garbled definition of America to falling off his bike, Joe Biden has accumulated many iconic and unfortunate moments over his presidency. While his outbursts and occasional oblivion supply comic relief, voters are skeptical of the 80-year-old's cognitive ability and competence as president. Biden's plan to run for reelection in 2024 is clearly unjustified and it is time for him to pass the torch, preferably to the younger generation.
Since 2022, President Biden's approval ratings have dipped to the 40s, a percentage mark that some of his predecessors who were denied second terms stood at in their presidencies. Much of this discontent rose with the pandemic, inflation rates, and the withdrawal of U.S. forces from Afghanistan. In general, Americans express a lack of confidence in Biden's ability to manage government and accomplish major policy goals — a feeling typically aimed at his advanced age.
A recent poll by Yahoo News showed that nearly 7 out of 10 voters believe that President Biden is "too old for another term." In Nikki Haley's kick-off speech for her 2024 presidential campaign, the Republican candidate attacked President Biden and 76-year-old Donald Trump when she called for "mandatory mental competency tests" for candidates over 75. Despite the cruelty and offense of this remark, it does hold some validity: cognitive function gradually declines after midlife. If Biden runs for a second term, he will be closer to 90 than 80 by the end of it. His current condition is already worrisome with a reputation for verbal flubs, physical falls, and forgetfulness.
Age is beside the matter. Instead of criticizing the current president, we should be focusing on what America needs in the next four years. Last election, a sober presence was sought to calm the turbulence of Trump's presidency. This time, the country calls for action and urgency. More than ever, America demands a leader with the strength to counter our complacency and the voice to call us to the present. A driving force is necessary to forge real change and refine the future of America.
Although Biden has made many accomplishments, he is not assertive. Known for being indecisive, his mild demeanor does not energize and move a crowd in the way that a younger leader might. Moreover, President Biden's decision to run for reelection could be discouraging potential Democratic candidates from stepping up. This could impact the Democratic Party's chances in the election, particularly against Republicans like Donald Trump and Ron DeSantis. As of late April, only three Democratic representatives have entered the race while there are already five Republican candidates and more expected to come. Since many Democrats hope to see a different representative next term, Biden's intent could be restricting their choices.
Regardless of whether he should run again, President Biden should be recognized for everything he has done so far. With his administration, Biden has taken action against climate change and inflation, addressed economic, gender, and racial inequality, as well as promoted workers' rights and diversity. From combatting the coronavirus to rebuilding America's infrastructure, Biden has accomplished a lot in the face of adversity. By stepping down at the end of his term, Biden would solidify his political legacy. Younger generations could be given a chance to lead. And most importantly, President Biden can take a well-deserved break after a fulfilled career.
About the Contributor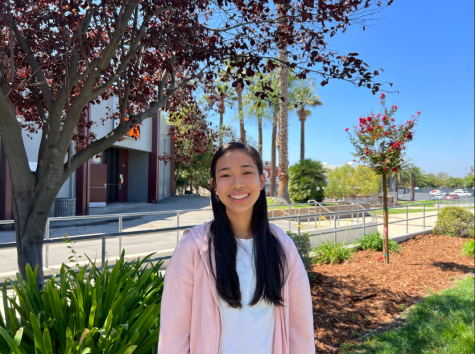 Enya Wang, Reporter
Enya Wang is a freshman and a reporter for the Wolfpacket. She has always had a passion for words and literature, which developed with her childhood AR...