German exchange visits CHS for the first time since the pandemic
During the week before spring break, CHS students may notice a sudden influx of people around campus, in the hallways, and perhaps even appearing in their classrooms. Tagging along with familiar faces, these new students are eagerly drinking in the "typical American high school" life around them. From biology, to stage tech, to Wolfpacket, to calculus, these students are being brought around from place to place as part of an international exchange. For the first time since the pandemic hit, twenty-two high school students from the Kurt-Huber-Gymnasium, a college-preparatory high school near the German city of Munich, Bavaria, will participate in an exchange with students studying German at Claremont High School. For them, the exchange with Claremont has happened every other year, starting from over 20 years ago. As of 2023, the exchange has begun again, with plans for students from Germany participating in homestays in Claremont for two weeks, arriving on March 24th and leaving on April 7th. CHS students will visit their partners' families for two weeks in the summer, right after school in Claremont ends.
At CHS, the German exchange is something that many students look forward to. The first exchange with the German program was established more than 30 years ago, by Carolyn Spanier-Ladwig, the former German teacher. Her husband, born in Gelsenkirchen, helped begin the tradition of CHS students participating in an exchange with a high school either Gelsenkirchen or Gräfelfing every year, a tradition that has been upheld by all CHS German Teachers since.
The process begins with students and parents filling out paperwork, filling out medical forms and answering questionnaires about the student's hobbies, interests, and family life. From there, teachers in Germany work to pair up the students in both countries. Partners are announced before the German students arrive, and communication with one's partner online is the beginning of a potentially lifelong friendship. After meeting in person for the first time in the United States, the hope is that matches were made well and that the students and families will get along with each other.
The decision to go on the exchange is potentially a life-altering one, and one that will certainly prove to be influential on future German and English exams — if students put in the effort to adapt to the culture. The Germans start learning English from kindergarten, unlike most American students, placing them at an advantage for adapting to life in California. Eleanor Cramer, a junior from CHS, provided her reasoning for deciding to participate in the exchange.
"I wanted to hopefully get to know someone in Germany and also improve my own German," Cramer said.
The exchange offers students from both countries to explore their independence when living without their family around them, while also giving them an opportunity to see through the eyes of a native rather than a tourist. Instead of getting caught in tourist traps, a host family can provide an entirely different perspective to the city. Jennifer Tsai, has been organizing the exchange ever since she began teaching at CHS, and has seen how the exchange changes students' perspectives of Germany over the years.
"One of the benefits [of the exchange] that students really enjoy is that I can bring the language and the culture closer together," Tsai said. "It's one thing for them to see it in the textbook or in a video, and it's another thing to actually use it."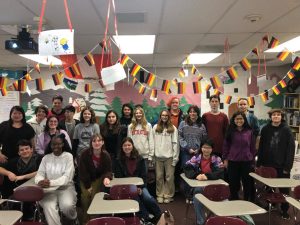 Helping Tsai with the exchange CHS junior Mia Rivas, who is the coordinator for the students, preparing them for the day when their exchange partners arrive.
"It's been a lot of fun!" Rivas said. "Everybody in the exchange has been getting to know each other. It's nice being able to see how everything works, and I like organizing and being able to bring people together. It's also really great working with Frau Tsai."
The German students will arrive the night of Friday, March 24th, spend the weekend adjusting to the time change with their host family, attend school with their exchange partner for a week, and then spend spring break with the group of exchange students visiting various California landmarks, museums, and attractions such as the California Science Center, Universal Studios, Hollywood, and the Getty Center.
Sophomore Antonia Ruf is one of the students from Germany who will be participating in the exchange this year.
"I am so excited to see if America, the high school experience over there, the weather, [and] the food are similar to how it's described and shown in the movies!" Ruf wrote in a text-based interview. "I think it will be so interesting to see the differences in every aspect compared to life here in Germany. I'm so happy to get to know lots of new people, to make some friends that live in a whole other continent, and maybe to have a friend for life."
Making the decision whether or not to go on the exchange could be a key turning point in one's life, but Rivas encourages students to go if they have the chance.
"I think an exchange is a great opportunity for anyone who has the privilege to go," Rivas said. "So if you have the ability to go, take it. I've had many exchange students in the past, and you learn so much from them. You meet new people, you learn new things, and it's just a great experience that I would recommend to anyone."
Some students have trepidations about going on the exchange and not having "a typical American life," but Tsai encourages students to face their fears and go on the exchange anyway.
"It doesn't matter whether you live in a mansion or a small tiny apartment, or whether you have your own bathroom or share it with seven other siblings," Tsai said. "It's the experience and it's the hospitality. Every single family is unique and a little out there — there's no typical Hollywood family. We just love each other the way we are."
Hello there! Our goal is to provide relavent, engaging journalism for readers of all ages. Your donation will support the student journalists of the Wolfpacket at Claremont High School, and will allow us to purchase equipment, print our monthly issues, and enter in journalism competitions. We appreciate your consideration!
About the Contributors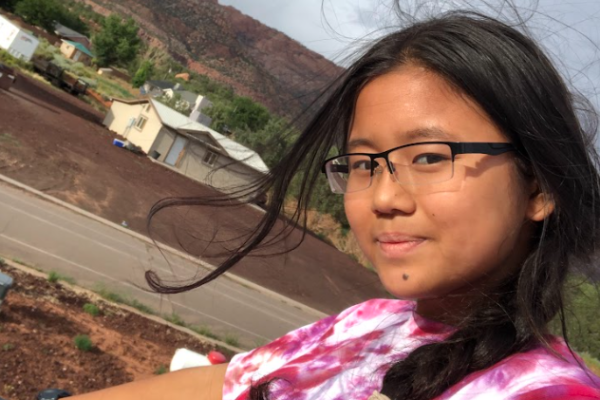 Mayo Ou, Co-Head News Editor
Mayo Ou is a junior at CHS and the Co-Head News Editor, Website Manager, and interim Business Manager for the Wolfpacket in her third year on the staff....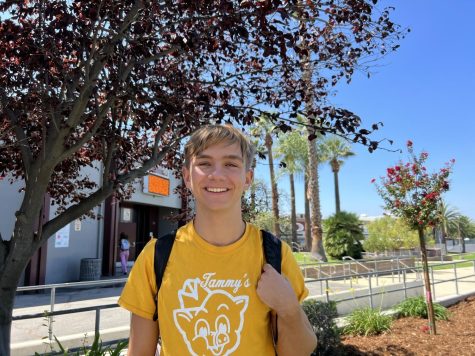 Ben Chapman, Sports Editor
Ben Chapman is a Senior at Claremont High School and Sports Editor with the Wolfpacket. Chapman is a member of the CHS Speech and Debate team and avid...