Walking Outside of the Lines
Effective January 1, 2023, a new "Freedom to Walk" law decriminalizes jaywalking in California. The new law allows pedestrians to cross outside of an intersection as long as it is safe to do so, legalizing safe street crossings. Pedestrians now have the freedom to walk without fear of receiving a violation ticket for crossing streets outside of designated crossing zones. This law is a response to the unjust jaywalking fines police cite to either racially or identity profile individuals. Data from the California Racial and Identity Profiling Act explains that the Los Angeles Police Department is 3.7 times more likely to cite Black pedestrians for jaywalking than white pedestrians. Law enforcement also targets homeless individuals and those with low-income salaries, who are unable to pay jaywalking fines. This new law works to protect those who are cited most frequently with jaywalking.
AB 2147 "The Freedom To Walk Act," signed by Gavin Newsom and created by Assemblymember Phil Ting (D-San Francisco), outlines the reasons an officer can stop and cite a pedestrian for crossing the street. The new bill allows anyone to cross without excessive fines for crossing streets at reasonably safe intervals. Currently, California is home to 30% of the nation's homeless population, meaning that over 172,000 people are homeless within the state. The homeless population is constantly targeted with jaywalking citations, causing them to rack up fines which eventually leads to the criminalization of homelessness on the basis of being unable to pay fines.
Jaywalking laws were first enacted in California during the 1930s due to the new automobile industry. As the industry grew, the number of deadly car accidents rose with it, partially because pedestrians and drivers did not know how to share roads. California notices that the times have changed with new technology, road signs, and drivers' education. With safer roads overall, pedestrians are now able to determine when roads are safe to cross, reducing the amount of jaywalking citations. Sophomore Jannat Grewal is a frequent jaywalker and believes that the new law gives people more freedom.
"Now with the law it is more convenient for people to safely jaywalk and gives people more freedom to cross wherever," Grewal said.
Though this law does change many things, it does not change the fact that pedestrians and drivers have the responsibility of keeping both parties safe when crossing and driving. Drivers learn in Drivers Education that "Every pedestrian… shall yield the right-of-way to all vehicles upon a roadway so near as to constitute an immediate hazard" (Vehicle Code section 21954(a)), meaning that if a pedestrian steps out on the road when a vehicle is a short distance away, any resulting collision would be the fault of the pedestrian. Sophomore Isha Zaidi is currently taking Drivers Education classes and believes that the new jaywalking law will impact her driving in the future.
"It will make me more conscious about paying attention to the road and pedestrians walking and now I need to remember that the pedestrians always have the right of way even if they decide to use a crosswalk or not," Zaidi said.
Although "Freedom to Walk" allows pedestrians to cross wherever they please, it is still their responsibility to not place themselves or others in danger. California continues its process of decriminalization as the legalization of safe street crossings will wipe out jaywalking citations and fines, allowing for the homeless population and individuals with low-income to not be penalized and criminalized for being unable to pay. So this year, get outside to exercise the freedom to walk in or outside the crossing lines (safely of course).
About the Contributor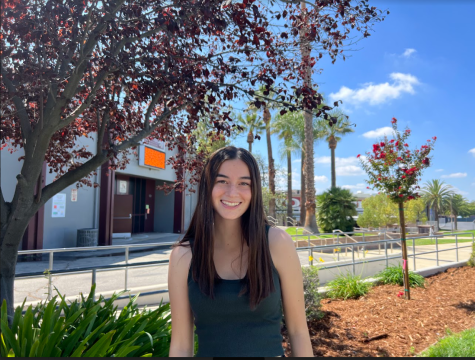 Kate Mitchell, Reporter
Kate Mitchell is a Sophomore at Claremont High School and a first year reporter in Wolfpacket. Mitchell loves to spend time watching and rewatching Gilmore...