Want the police called on you? Go to the office
By this point in the school year, most students at CHS are familiar with the small QR code with a dinosaur in the middle. It's around every corner, hanging in our classes and bathrooms, advertised on Wolfcast, and even printed on the inside of our agendas. Because of these efforts from students and staff, accessing mental health services is no difficult task at our school. Accessing quality services, however, is another issue.
It is no question that mental health support is important for schools to offer. It can help students identify and address any mental health issues they may be experiencing, such as depression, anxiety, or trauma, and can provide appropriate resources for their needs. Discussing their struggles with a trustworthy person can also help students develop the skills they need to cope with stress and the challenges of growing up, along with achieving their full personal potential. Unfortunately, the very reasons why support is important, are also the reasons why the reliability of our school's services is up for debate. Chances are, if you approach a student who's never sought help at the counseling office or with the support center and ask why they never reached out, they will tell you that they do not trust that the person they're talking to won't contact their parents or teachers. They've heard stories from friends, or have witnessed moments where the school hasn't acted in a student's best interest. Rapport is the single most important aspect of any therapy-based resource, and when trust is broken before the door to the office is even opened, it is difficult to be vulnerable and receive the help desired. Opening up to anyone about what you struggle with is already difficult, and despite there being an increase in awareness, there is still a stigma around mental health that is very much prominent in some families and regions. That is why it is so important to students that if they visit a counselor or an intern at the support center, everything they discuss is kept secret so they can share their experiences without fear of judgment or repercussions. Arguably, schools have valid reasons for reporting mental health issues, as it is a way they can ensure that students are receiving the resources they need to address their concerns. They can also track patterns to identify areas where they may need to implement new strategies to promote mental well-being in the school's community. However, it should be stressed that the support and resources students receive from the school are based on protocol and may not be what the student needs at that moment. Unfortunately, they can be more damaging than effective and change the way a student feels about seeking support in the future. Junior Izzy Thomas, is one of the students who feel that the support she received from CHS was less than helpful.
"I've had pretty rough experiences with the mental health services here," Thomas said. "At one point I was struggling with depression and anxiety pretty severely, and I went to the office and asked to see my counselor who is Ms. Hebert, but she wasn't there so they had me talk to another counselor instead. My counselor already knows everything and we look at solutions, so talking to someone else was a bit uncomfortable. I talked to the other counselor about how I was feeling depressed, but pretty much lied when she tried to dig deeper into my mental health because I knew the school would be weird about it. She decided to do an evaluation on me anyway, so I answered kind of honestly but also kind of skipped over stuff I felt uncomfortable with. She took my phone away during the evaluation which was kind of scary, and then afterwards had me step outside for a bit and when I came back in she informed me that she had just called the Claremont Police Department to do an evaluation on me because I feel down some days of the week."
From there, Thomas informed her about her own treatment options but was not given her phone back, not even to text her mom, despite being a minor. She was informed that depending on what the officers thought, she could be taken to the nearest mental facility. If they decide that, the officers would let her mom know. Thomas did not get to directly contact her mom, and her mom did not get informed that her daughter was being evaluated by the police.
"Luckily, the police were super chill," Thomas said. "They didn't send me anywhere, they were just like yeah schools freak out anytime you say you're depressed or have bad thoughts because they don't want a lawsuit on them."
This whole situation is frustrating and frightening. Not being able to contact a parent or guardian when the police are about to psychiatrically evaluate you is an unimaginable experience, one that no student should have to go through at our school. For the rest of the interview, Thomas discussed how her experiences with the Student Support Center were even worse, how she has been dismissed when the intern she is talking to has a meeting, and how she is constantly sent home which only causes a cycle of missed work and stress. She also mentioned how ridiculous it is to need a parental signature to be able to talk to someone at the support center considering that takes this opportunity away from many students whose parents disagree with seeking support for mental health. It feels like there are a lot of differences between a licensed therapist and an intern, one of those being the need for a guardian's consent. For students who feel like mental wellness is a priority, it's hard to understand why there are not more actual therapists assigned to schools. There is a basic understanding of that just being the way the school system is, along with needing parental consent because of legal reasons. Despite that, it evidently discourages many students from looking to the school for help. There is obviously a "hear something, say something," responsibility among staff, but when students are taken to a counselor or to the support center and feel like they have to lie in order to protect themselves, it creates a toxic, repetitive environment that begs for a change.
Hello there! Our goal is to provide relavent, engaging journalism for readers of all ages. Your donation will support the student journalists of the Wolfpacket at Claremont High School, and will allow us to purchase equipment, print our monthly issues, and enter in journalism competitions. We appreciate your consideration!
About the Contributor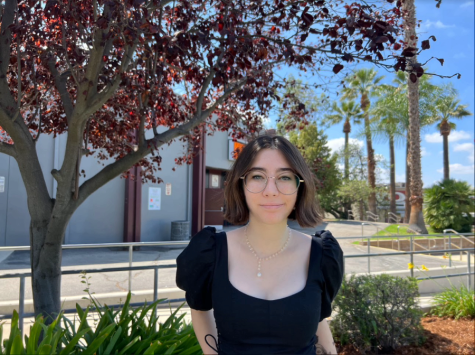 Natalie DeWees, Business Manager
Natalie DeWees is a junior at CHS and the business manager for the Wolfpacket, along with being a first year reporter. Outside of class, Natalie occupies...