Pesticide use at CHS is setting our community BEE-hind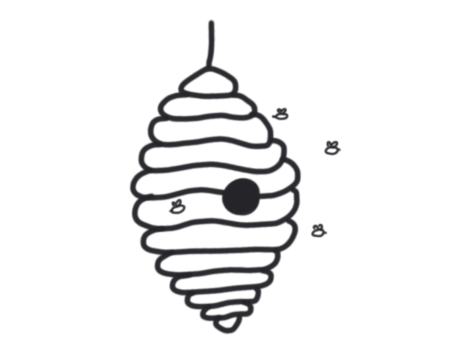 With September the 17th marked as the last sighting, Claremont High School still remains the stomping ground for a menacing figure. This monster has been known to wipe out and crush entire bee colonies and has aggressively marked its territory community. We know this beast as Taurus SC 0.03%, a popular termiticide that CUSD applies three times a year to our campus to prevent ant colonization in our buildings.
Although Taurus SC is not applied in large quantities nor is it applied near plants, CHS student Isha Raheja witnessed firsthand the impacts of insecticides and termiticides on local fauna when a colony of bees she was raising was completely wiped out. Raheja's colony was within 3 miles, the maximum distance bees can fly from their hive, from a local elementary school that confirmed that they regularly utilize a similar insecticide, which according to them was "bee-safe," for their respective buildings. In an email I received from the Executive Director of Facilities & Project Management for CUSD, I learned that "This treatment is regulated by the State of California and is not sprayed anywhere where plants and flowers grow." If a similar pesticide was used in state-regulated quantities at the elementary near Raheja's colony, imagine what Taurus SC could do to our school. Raheja has already pointed out to me the numerous dead bees that she has seen around campus. Given what we know about the effects of Taurus SC, it must be one of the prime suspects.
It's not just insects harmed by insecticides though. If washed into waterways insecticides can lead to biomagnification. Biomagnification is the process in which toxins build up and become more concentrated at each trophic level. For animals higher in the food chain, like humans, this is especially potent news. If you like eating locally grown and harvested food, pesticide use on CHS's campus is a threat.
To add further insult to injury is the lack of awareness on our campus. When I learned of this issue, it was already too late: the insecticide warning had been posted two weeks prior on a black-and-white piece of printer paper by the main office. This is far too inconspicuous of a warning for such a controversial insecticide; Dr. O'Connor himself wasn't even aware that we were spraying this insecticide until we brought it to his attention.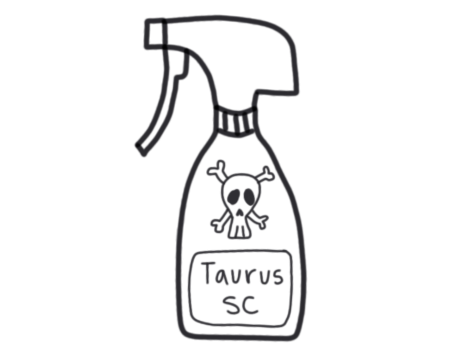 Taurus SC has also been identified as a "possible human carcinogen" by the U.S Environmental Protection Agency, or the EPA. In studies on male and female rats, thyroid cancer was identified in the rats who absorbed the highest doses. While more research is necessary to indicate a tangible threat to humans, I still believe that CUSD would do well to explore alternative options. If absolutely necessary though, there are many eco-friendly ant treatment alternatives out there, including white vinegar, borax, baking soda, and d-Limonene, an EPA-approved pesticide in California for usage against drywood termites that has shown to be effective against fire ant mounds in Texas. Of course, further research is necessary to determine the effectiveness of available substitutes for Taurus SC and the necessity of pesticides in the first place. Insects play an integral part in our ecosystem, from pollination to sanitation, they are vital for the success of our natural world and it's high time CUSD realized this fact. Employing a chemical that can be felt in almost all aspects of our environment is unjustifiable. In the end, CUSD should simply be more transparent regarding chemical usage, carcinogenic or otherwise, on their campus and should definitely consider the devastating environmental footprint they are leaving.
Hello there! Our goal is to provide relavent, engaging journalism for readers of all ages. Your donation will support the student journalists of the Wolfpacket at Claremont High School, and will allow us to purchase equipment, print our monthly issues, and enter in journalism competitions. We appreciate your consideration!
About the Contributor
Isha Raheja, Assistant Editor-in-Chief
Isha Raheja is a senior at CHS and Assistant Editor-In-Chief as well as social media manager. Throughout her two years in the Wolfpacket, Isha has loved...