Boys Water Polo Dominates Division 1 Tournament
Water polo is one of the only sports not played on solid land. The sport requires an intricate skill set, including the endurance, stamina, speed, and strength to swim up and down a 25-30 meter pool. It is also a physical contact sport with a lot of kicking, wrestling, and scratching happening under the water. Matches consist of four seven-minute quarters with three timeouts each played between two teams of seven athletes each, with six field players and one goalkeeper. Goals are scored by throwing the ball into the opposite team's goal and the team with the most points at the end of the match wins.
This year the CHS boys varsity water polo team is one of the school's strongest teams, placing among the best teams in Division III of CIF water polo and is also dominating the Palomares League. On October 20, the team traveled to San Diego to play in a Division I tournament. The team has faced and defeated many Division I teams this year in other tournaments. They have shown incredible performance despite only being in Division III. The tournament consisted of several age brackets with roughly 20 teams per bracket, lasting for three days from October 20-22. Unfortunately the team had to cut their time in San Diego short, missing their final match of the tournament but still placing an impressive 4th place as a Division III team in a Division I tournament. They may have been able to take 3rd place, but they left the tournament early and forfeited the deciding match.
"We have definitely played D1 [Division I] teams at tournaments before, and I think up until this last tournament we had been undefeated against D1 teams in tournaments," Jonah Tharpe, a senior member of the water polo team, said. "This year and last year, we have been pretty dominant in our CIF division."
The experience proved to be not only an opportunity to better their skill in water polo, but a bonding experience for the whole team. The seniors on the team used their final matches of the season to spend time with their team and begin thinking about the future.
"I plan to continue my water polo career at the collegiate level. I'm currently in talks with some colleges," Davin Castillo, a team captain said.
Though the team was eliminated from CIF after losing their second round game, they still had an incredible season. Next year, they will continue to excel in their league. Go pack!
About the Contributor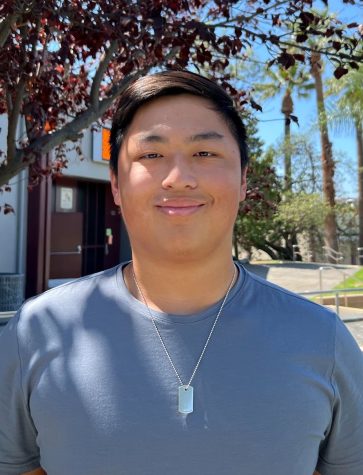 Kyle Chen, Reporter
Kyle Chen is a Junior at CHS and a reporter for the Wolfpacket. At school he enjoys hanging out with friends and participating in the esports club. His...