Obscure sports clubs at CHS
Sports are inherently a major part of the high school experience. Students must either take a second year of P.E. or complete four seasons of a sport in order to get P.E. credits. Many are familiar with these typical sports teams: Football, soccer, cross country, swimming, basketball, volleyball, and more. However, not as many are familiar with the sports played not for credits, but instead for a common interest. Two of these clubs are the Ultimate Frisbee Club and the Skate Club.
The Ultimate Frisbee Club was started this year by senior Roman Savage. The advisor is Mr. Hoyle, and the club currently has around ten members. Club leadership is looking for more members. The Remind code is @ufc23 for anyone interested.
Ultimate frisbee is a sport where teams of seven players pass a frisbee down a field until they reach an endzone and score a point. The club is planning on holding competitions against each other, and they plan to meet on Fridays during lunch at the football field to play ultimate frisbee.
"I really enjoyed playing frisbee with my friends, and I thought it would be a lot of fun to start up the club," Savage said. "Anyone is welcome to come to a meeting, even if they don't know how to play. New students can quickly learn and get right into the game.
The Skate Club is another club on campus that explores a more unique activity. The club meets every other Friday in room 705. Luka Munoz is the president, and the advisor is Mr. Webner. It has around 20-30 members. At a typical club meeting, the group eats lunch together and watches a skate video or two. Luka Munoz, the club president, is an avid skater.
"I like to skate because it's a good physical activity, and it's a fun way to bond with friends and meet new people," Munoz said.
Skating typically means using a skateboard, but some members of the Skate Club choose to ride their bikes or use scooters instead. Munoz said that the club plans to have competitions in skating soon. They will elect judges and then see which skater can perform the best trick on a chosen obstacle.
The Skate club would be happy for any new members to join. Munoz said that even if you don't know how to skate, you can still come down to the club and have a great time.
For those interested in trying out a less conventional high school sport, it is still worthwhile to check them out.
About the Contributor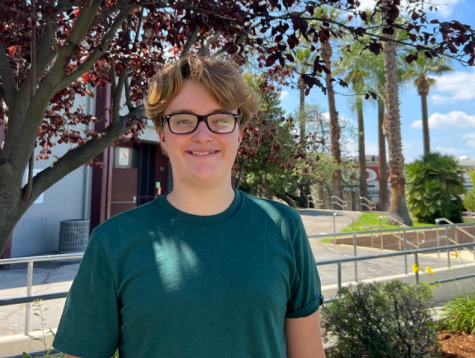 Callum Stewart-Glavin, Reporter
Callum is a sophomore, first year reporter on the Wolfpacket team. In his free time, he likes to swim, read, write, and watch movies. He is on the San...