Homecoming Court: Seth Gonzalez
Being a valued player on the varsity football team and an involved CHS student, it is no surprise that senior Seth Gonzalez finds himself on Homecoming court with his girlfriend, Katie Campbell.
"We're hoping we can win together," Gonzalez said. "That would be very cool–very exciting."
His past four years in CHS football have left an everlasting impression on his high school experience. Through hours upon hours of weight training, practice, and games, Gonzalez has developed strong bonds with his fellow teammates and coaches. When asked about his favorite memory of high school, he recalls the excitement of their football games on Friday nights.
"All season, we train, we work, to play these [football] games…we grow together as a team…and there's all this built up excitement for these Friday night games," Gonzalez said. "Just being able to play football with my friends and learning to grow and mature with them has probably been my favorite memory so far."
Football is a big time commitment but Gonzalez always finds time for his family, friends, and his girlfriend. When he isn't on the field, he enjoys mountain biking with his dad, riding his skateboard, and creating art.
When it comes to his future, Gonzalez hopes to keep his options open by attending Citrus College. He is currently working on getting his real estate license in addition to working with a family friend.
Above all, he would like to shout out to his parents, who have always supported him and his siblings.
"My family's always been there for me, and I'm always there for them whenever they need it," Gonzalez said. "[My parents] will go out of their way to do what's best for my sister and I, and my baby brother as well. I very much appreciate that."
About the Contributor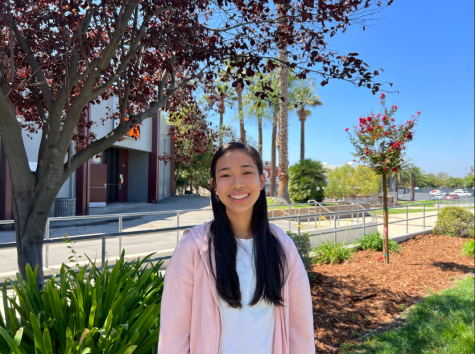 Enya Wang, Reporter
Enya Wang is a freshman and a reporter for the Wolfpacket. She has always had a passion for words and literature, which developed with her childhood AR...