Wolfpacket Competing News Source: C.R.A.P.
1:02 PM, November 19, 2021. The Wolfpacket had just released their third issue of the year. On the front page breaking news: "Matteo Quadrini Saves The Wolfpacket". Sophomores Benito S. Sandoval (who goes by Benito Sanders on his podcast, per request from his parents) and Harith Nasrun had their eyes glued to the article, eyes leaping from line to line across the page gobbling up every single ludicrous word in ecstasy. Somehow their most infamous friend had made it in and caused a commotion. Seeing that Quadrini had been rejected, they too immediately saw an opportunity. An opportunity to create something big, something new, something revolutionary, "The Quadrini Magazini."
It was rejected (by the man himself no less). Nevertheless the two budding comedians were unphased due to their high intelligence. Nasrun "allegedly" completed pre-calc in the second grade and Sandoval considers himself equivalent to Albert Einstein as he comes up with his best ideas while staring at a clock tower in a remote German town. As the pair were already the co-founders of the Ears Only Video Podcast Network, (which produces AnyTime with Benito Sanders on YouTube) these CHS sophomores knew that this was the task for them.
Sharing a love for comedy and writing, Sandoval and Nasrun decided to expand their media empire, and so began their mission to create "Claremont's Really Academic Paper."
"He [Quadrini] was too busy with soccer stuff to do it," Sanders said. "But I am a comedy nerd and I thought we have a newspaper and I was looking at colleges who have all of these humor magazines and I was thinking that we should create a silly little magazine where we can just write the stupidest stuff imaginable."
The paper's creation was heavily inspired by The Harvard Lampoon, The Harvard Crimson's silly useless counterpart, and is meant to be the completely comical equivalent to CHS's official Wolfpacket. Before the official name was chosen, the two founders went through many iterations, one of the first being "Claremont Howler " (as in howling with laughter) but the two knew that they wanted an acronym for a name. After much deliberations and many lewd suggestions, "Claremont's Really Academic Paper" – which is in no way an acronym (as stated on the website) – was chosen.
First published on February 9th, 2022, the paper has released three issues, with twelve others lined up (to be published throughout the summer). They have reported on the heavily covered and "coveted" Dr. O'Connor Student Center, reported on the Y.I.C.C.'s "How I Became a Millionaire Overnight," made a defense for the Duolingo Owl, and have written many other satirical stories meant to keep their readers entertained. Their newest issue was released on May the 4th and covers Mexican Star Wars.
Though they are the clearly inferior paper at CHS, The Wolfpacket having produced over 900 copies over ninety-one years and thousands of articles, the Wolfpacket staff thinks that Claremont's Really Academic Paper is an… interesting addition to journalism at CHS. The consensus in the Wolfpacket room was, that despite being posed as a rival news source (a diss track meant to put the paper in its place was even considered), Claremont's Really Academic Paper was actually pretty good. The staff agreed that a lot of work had been put into its production and that they would be willing to collaborate in the future.
When asked how they feel about being the inferior paper at CHS Sandoval responded, "I love it. It is a really nice feeling. Some people are into that kind of stuff, although I'm not that into it. Luckily, it is a fact contested by some if not all of the people at Claremont High School."
Whichever news source CHS deems to be the best, one thing remains clear. The Wolfpacket is not C.R.A.P. (link to C.R.A.P. website to check out article responses)
Hello there! Our goal is to provide relavent, engaging journalism for readers of all ages. Your donation will support the student journalists of the Wolfpacket at Claremont High School, and will allow us to purchase equipment, print our monthly issues, and enter in journalism competitions. We appreciate your consideration!
About the Writer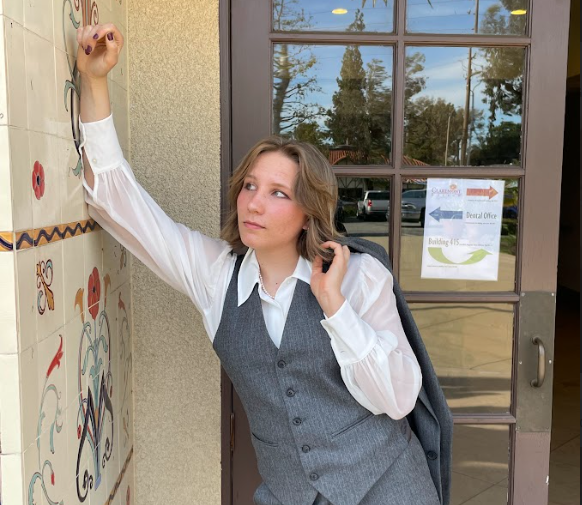 Carrie Anne Little, Editor-In-Chief
Carrie Anne Little is a senior at Claremont High school, and the Editor in Chief for The Wolfpacket. She is a partial IB student, enrolled in the IB english...