SATIRE: Carti 400 insurrection
To have a school concert would be stupid, to host a school concert in a boys bathroom would be more stupid, and to host a school concert in a boys bathroom while cops were on the premesis would just be… idiotic. On March 4th, 2022, hundreds of students Fell In Luv with PlayBoi Carti's music and ravaged quads to appreciate his tunes. Here are the survivors' stories.
The horrific event starts with the ordinary CHS senior, Sha Ving, dawning on the idea of an anarchy ridden school.
"Yeah I was just done with it all [CHS] and I knew how to make a last good impression", Ving said before getting pulled into the office. "Me and my friends were really into PlayBoi Carti so we were just like what if dudes… and one thing led to another."
Mr. Ving certainly knew how to throw a good party because after the Instagram account that he created to advertise the event went viral, hundreds started coming to the Location (the 400s quad) to have what they thought would be the time of their life. Even I tried to come in, but unfortunately the gates were locked to the restroom by then. Some students made it, however many were turned away.
"I- I- I got in and- and they [Sha Ving's lackeys] said if I kn- knew any PlayBoi songs," said freshman Gibby Dinks. "I knew none, so I- I did not get to come in, they the- threw me out so then I ran to- to the office and told."
However, it was not just students locked in the 400 quad but teachers as well — innocent bystanders caught in the chaos. Among those who saw the pandemonium, some came to protest: sparking the Free Dingwall Society.
"I was getting my lunch, then boom, the gates, they shut down on me and I was surrounded by a crazy barking wolfpack shouting R.I.P.", stated a disheveled Mr. Dingwall. "They were approaching me and dear lord, I knew my time was up."
To every tough time there rises a hero, and CHS had one young aspiring rapper and student C Pauler, a legend lost in the tales.
"They invited me to spit some bars for them at the concert and I was like aye aye ok i see you," Pauler said. "After a couple songs tho they started trashing and not thrashing so I knew what I had to do. I went to the cops and spit them bars… yuh yuh come down here, they're making some fear, they aint tough, aye go circle dem up, and they came."
We will never know all that truly happened on March 4th, but we can look to the future. Who knows, maybe next year we can have a Kendrick Lamar concert and make it rock the Sky.
About the Contributor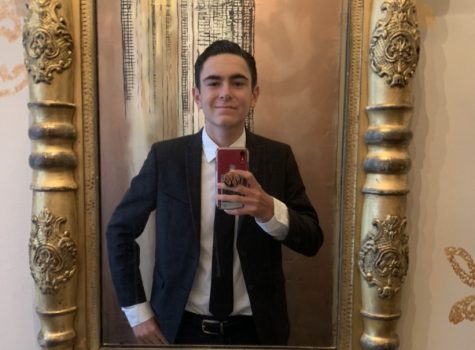 Carson Paul, Business Manager
Carson Hunter Paul, a sophomore at CHS is the and coolest reporter and Business manager of the Wolfpacket B). At school he loves hanging out with his friends...