CHS students react to California's Recall Election
Following a petition signed by nearly two million Californians who wanted to fight for a recall and for change, Governor Gavin Newsom was forced to desperately fight for his political career. On September 14, voters from all across the state made their will known. Though there is still much to ponder following the election, the votes are in and Newsom will remain in office. The recall ultimately failed, as Newsom easily won the election by more than 60 points. However, some members of the Republican party still view the election as a victory in a way.
In 2018, Newsom won the midterm election in the biggest landslide in California history, after easily sliding past Republican candidate John Cox by nearly 24 points. Two years later, however, nearly 2 million signatures on a recall petition elicited a fierce response from California voters to trigger a recall election on Newsom. A CHS freshman in favor of the recall, and who currently wishes to remain anonymous, weighed in on the aftermath of the election.
"I think after everything Newsom's done to this state, I'm surprised he wasn't kicked out of office," the CHS freshman said. "We're seeing spikes of crime, homeless rates, and a failure in the education system, and the rate of which people are leaving the state is shockingly high. I think this all connects to the leadership of California, and Gavin Newsom has done nothing to improve our state, and I pin him responsible for not doing anything about these problems."
CHS freshman Finn Lackey took a different stance to the results of the election.
"I personally think that the recall effort was a waste of resources," Lackey said. "It cost us hundreds of millions of taxpayer dollars, and it doesn't make sense because there's an election in 2022. I get the anger of people in California, but honestly, I don't believe anyone could've done better."
Lackey was correct: the recall election effort cost close to $300 million dollars for taxpayers across the state. However, Republicans believed it to be a fundamental necessity to recall Newsom, as the governor faced the recall election after being accused of hypocritical actions. Thus, the CHS freshman in favor of the recall wasn't afraid to state her point of view upon Newsom's actions.
"Gavin Newsom dined in one of the most expensive restaurants in California, which violated his mask mandate policy. He continued to send his kids to school while he shut down schools like ours all across the state, and while small businesses suffered, his winery stayed open. As people were evicted from their homes, he was making a profit. He showed no signs of leadership. It all feeds into hypocrisy," the CHS student said.
The freshman is referring to Newsom's most controversial action: dinner dining at The French Laundry. Located in the Napa Valley of Northern California, The French Laundry is famous for its impeccable standards, and unwavering consistency of flawless food. It's the reason that the food is still so popular after a quarter century – and it will surely remain a classic for many more years to come. With the promise of a nine-course meal, the price totals itself up to $350 per person, but dining there during the pandemic cost Gov. Gavin Newsom quite a bit more than that.
Democrats have defended Newsom, claiming that an apology is enough to get a pass for Newsom's lack of leadership that republicans see. Lackey believes Newsom's actions were unjust, but just not severe enough to be recalled.
"I don't think it looks good for Newsom to violate his own policies, but I don't think it's worthy of him being recalled," Lackey said. "He's definitely not the best governor, he's not necessarily the worst, but I feel personally that I was against the recall to stop a Republican like Larry Elder instead of defending Gavin Newsom, just because we can't expect too much from him. I don't necessarily like him, but I think he's better than the other candidates running."
The GOP frontrunner in the recall race was Larry Elder, a talk show host, who won the most preliminary votes against other Republicans, tipping the tables with 47% of the recall vote, who promised to end the restrictions on California's students for mask and vaccine mandates if elected. Lackey believes Elder wouldn't have made a difference, and would've driven us back in the fight to end the raging pandemic. However, the CHS freshman firmly believes Newsom has contributed to a failed response to the pandemic.
"Newsom's response to COVID was ridiculous. There was rightfully a huge backlash to his COVID response," the freshman said. "He drove the economy to the ground, and even with his lockdowns and mandates, we continued to have huge numbers of deaths. We have the highest unemployment in history, and homelessness rates are at its peak."
Lackey strongly disagrees. He believes that the early implemented lockdowns were essential in saving lives. "Many of the lockdowns implemented from Newsom were controversial, but right now, we look at where we are as a state, and we see that we have the lowest number of cases than any other state. I think that's because of the early lockdowns, which were crucial in helping our state."
However, even though he was against the recall effort, Lackey agrees that it's time that California gets a new Governor, come 2022. "I didn't really like any of the candidates on the ballot in this recall election, but I think I'd definitely be open for a new Democratic governor next election. Newsom is not my favorite governor, and if there's a better option, I'll be in favor of seeing him go," Lackey said.
Despite disagreements from CHS students and Californians at large on both sides, September 14 determined that Newsom will stay in the governor's office, at least until the upcoming 2022 election.
About the Contributor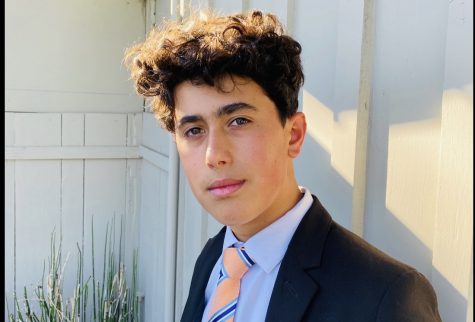 Lucas Grannis, Reporter
Lucas Grannis is a freshman at Claremont High School, and a first year reporter for The Wolfpacket. There is never a moment wasted in his life, as Grannis...