Up and running, cross-country becomes first athletic team to be back competing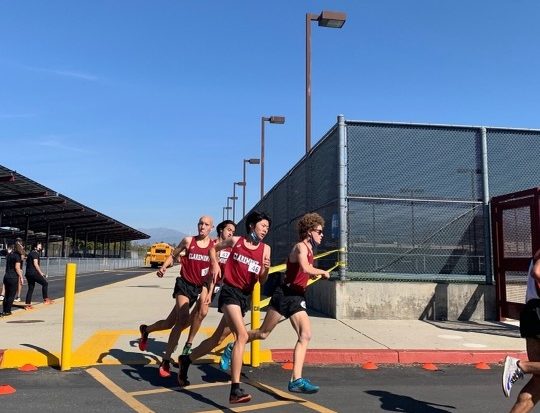 On Feb. 20, staggered out along the length of Ayala High School's football field, and roughly six feet apart, 36 runners assumed their positions along a makeshift starting line. The stands are empty, the campus is officially closed, and if one looks close enough, each racer holds a mask. At first glance, the stark environment is somewhat odd, but this version of the three-mile race has become standard for this year's high school cross-country meets. Although a bit bizarre to see, these changes are important: they have allowed the races to commence. Moreover, these meets signified the first instances of an athletic team at CHS being allowed to compete.
"It feels really good [to be back], all the kids really enjoy competing especially considering that it has been over a year," the cross-country team's head coach, Bill Reeves, said. "I think we are doing everything very safely, with masks on and social distancing… it's very unlikely that anyone will get COVID while at a race."
To put it into perspective, the race is so small because there are only two teams being allowed to compete at once, and masks are required whenever an individual is not actively running. Additionally, the possibilities of meet venues are limited by the pandemic: every meet was held on a high school campus until cases dropped below a threshold which allowed the league to rent a park for use in a competition on March 13. Even then, the crowded and large Whittier Narrows Recreation Area, a pre-pandemic league-meet venue, could not be reserved for cross-country meets, and high schools in California are only allowed to compete in dual meets in adjacent counties. In addition, no spectators are allowed to attend, and parents must wait in the parking lot for their children. Put simply, in order to make meets happen this season, no one is taking any unnecessary risks.
Unfortunately, eliminating risks means eliminating many of the things that are so exciting for runners. As of right now all invitational races (non-league races, which normally feature tens or hundreds of teams from across the nation) are cancelled, and the lack of spectators gives the meets an almost empty feeling. Furthermore contributing to this odd emptiness, is the lack of athletes. In addition to only two teams being allowed to race at once, team numbers have dropped over the course of this season, and instead of separating by age or skill, all boys are in one race, and girls in another. As of right now, the Claremont cross-country team has about half the runners they usually would.
Despite the drop in numbers, the added incentive of racing is slowly bringing more and more people back to the team. Though racing is certainly not the same, even being allowed to race at all has propelled many runners to begin coming back to practices, as more return every week so that they are able to compete this season.
"Races really help motivate our team, our numbers went up when we finally set our racing schedule," Reeves said. "Some kids did a great job [staying motivated] during COVID, and some were unfortunately affected a lot."
If one considers the fact that races like this one were originally supposed to take place almost six months ago, it is easy to see both why the numbers dropped originally, and why they will hopefully continue to go up as time goes on. Cross-country is a rigorous sport, and waiting an additional six months to compete due to postponements means staying in peak condition for the foreseeable future, which for many athletes, perhaps not only for cross-country athletes, was very disheartening.
Despite the long waiting period that many student-athletes have faced during this pandemic, cross-country's success in operating their meets in accordance with CIF guidelines shows real possibilities going forward. As the school transitions from fall sports to spring, it is likely that with many more teams beginning to hold their own matches, more and more athletes will be motivated to return to their sports. A precedent has been set by cross-country, and hopefully it will continue within this so-called "new normal."
To read interviews with cross-country runners about their season, click here
To read about the seasons of other Claremont teams currently competing and about the state of Claremont athletics, click here.