From Drum Major to Major: Ephram Teran
This year, the United States military academy at West Point is estimated to have received over 10,000 applications and admitted just barely short of 2,000. Out of the entirety of Los Angeles County, just five candidates were selected to attend. One of these five was Claremont's very own Ephram Teran. Despite the magnitude of this honor, Teran remains humble.
"I feel honored to be selected out of all those people," Teran said.
Despite the image that some people may have, West Point offers a plethora of different career options in a wide variety of specialized fields. Teran was intrigued particularly by their top-tier engineering program, in which he will be enrolling this upcoming fall.
"I've always been a big engineering guy and I've always wanted to be in the army as well," Teran said, "My sister decided to go into West Point for computer science, engineering, army stuff and I was like 'Hey this seems like a pretty good school."
Teran, who can often be seen sporting a "Beat Navy" West Point t-shirt, had little doubt in his mind that West Point would be the perfect fit for him.
"I checked it out and sure enough, they specialized in army engineering and it seemed like the perfect fit for me." Teran said, "I never had any interest in the Navy, Airforce, or anything else."
Not only will Teran graduate with a degree in engineering, but he will also be made an officer in the army. Beyond just the next four years, Teran has a large portion of his future already planned out.
"After West Point, you have eight years of mandatory service, you can choose to spend those years at home, active duty, or going to another school." Teran said, "But during that time, I am probably gonna serve the full army commitment which is twenty years."
Where exactly Teran will be serving this commitment remains unclear.
"I would prefer to serve active duty, but it all depends on your class rank. If you're a high-ranking cadet, you have a good deal of choice on where you go." Teran said, "It's all about keeping your grades up and just being a good cadet."
Teran has had some experience serving as a leader already. He is one of CHS' band's three drum majors and he is hopeful that this experience might translate over.
"Hopefully, but in the first two years, I'm gonna be getting stepped on as a grunt," Teran said.
Admission into West Point is a highly selective process that requires a good deal of work. Candidates have to receive a recommendation from a local congressperson, Teran was recommended by Judy Chu, as well as complete the standard application process. Teran has the following advice for those looking to follow a similar path to the Army Academy.
"Start thinking about it sophomore year and start the application junior year. It's a two-year long process," Teran said.
Teran's final thoughts are something that more than a few seniors can resonate with,
"My experience was a little different because I have COVID, but ultimately it wasn't that big of a deal." Teran said, "I think what it's all about is finding what you want to do and sticking with it."
Hello there! Our goal is to provide relavent, engaging journalism for readers of all ages. Your donation will support the student journalists of the Wolfpacket at Claremont High School, and will allow us to purchase equipment, print our monthly issues, and enter in journalism competitions. We appreciate your consideration!
About the Contributor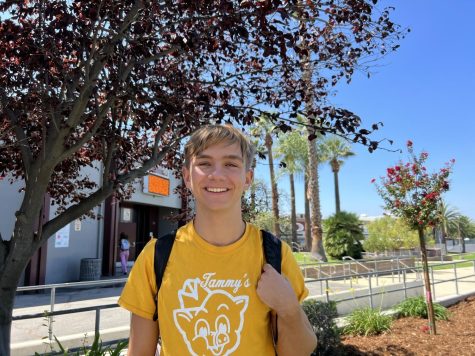 Ben Chapman, Sports Editor
Ben Chapman is a Senior at Claremont High School and Sports Editor with the Wolfpacket. Chapman is a member of the CHS Speech and Debate team and avid...