Gabriel Korr rolls his way to Hampshire College
From going class to class with his trademark blue Jansport rolling backpack, Gabriel Korr will have to take his iconic backpack across the country to Massachusetts Hampshire College.
Korr is well known in CHS as the person rushing to get to every class with the rolling backpack in khakis and a blue polo and has had to use three different backpacks during his time at CHS. This has made him well-known across the class of 2023 and has led him to become the subject of many "Gabe" jokes.
Hampshire College is located near other colleges affiliated with UMass, such as Amherst, Mount Holyoke, and Smith. Hampshire College is known for being a liberal arts college, being known for majors such as ethnic studies and visual performing arts, although Korr is currently undecided on a major.
Korr is involved in many hobbies, he enjoys coding and is currently working on his own game, called Banana Brawl.
"I'm coding it in Javascript, it's like super smash bros but with bananas. I also make instruments out of PVC," said Korr.
Korr's advice to current high school students is to have a consistent sleep schedule.
"If you go to sleep at a consistent time, that will have a really significant impact on your mental health," said Korr.
Korr will miss CHS a lot. He will miss the teachers, people, the campus, and the jokes people make about him.
"I'll miss my friends, I'll miss the teachers, I'll miss the campus… I'll miss the Gabe jokes," said Korr.
CHS will certainly be different without Korr's iconic rolling backpack. The Wolfpacket and CHS wish him good luck in college and further on.
Hello there! Our goal is to provide relavent, engaging journalism for readers of all ages. Your donation will support the student journalists of the Wolfpacket at Claremont High School, and will allow us to purchase equipment, print our monthly issues, and enter in journalism competitions. We appreciate your consideration!
About the Contributor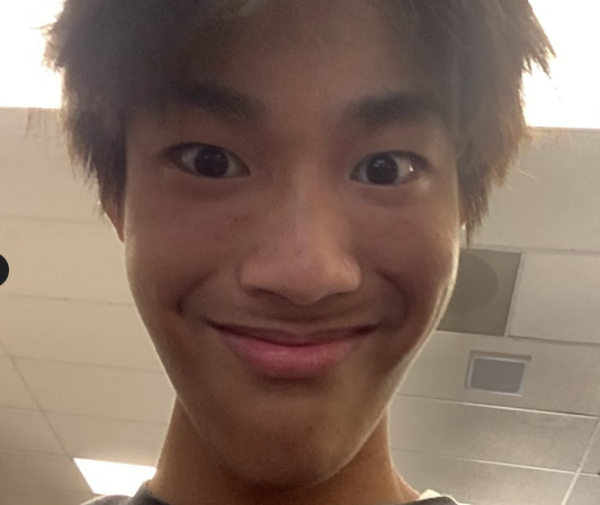 Cheng Hao Li
CH Li is a sophomore and Assistant Sports Editor for the Wolfpacket this school year. This year his specific goals for himself in Wolfpacket are to not...