Wedel wanders across the United States and then to Germany
Everyone faces the question of what they will do after high school ends, whether it be something they have dreamed of since elementary school or something they only realized much later. High school opens up new possibilities that students have never even thought about, and for senior London Wedel, his future prospects began with his start of the German program.
Wedel has been taking German and participating in German Club for all four years at Claremont High School and has been an officer for the club for the past year. In addition to that, he has taken the German "Study Bridge" program, which focuses on preparing international students who want to go to free German universities. This summer, Wedel will be spending eight weeks in Germany to experience the culture, participate in the German exchange, work with the Study Bridge, and visit potential universities.
"So I'm spending two weeks with the school-hosted German exchange, then I've got about 10 days on my own where I'm just going to be traveling the country," Wedel said. "Then I've got a two-week study camp with [the Study Bridge] program that I'm participating in, another four days on my own, and then another week where I'm doing this STEM academy program hosted by German universities."
Before going to Germany, though, Wedel has determined that he will be taking a gap year in America to take part in either the AmeriCorps or the California Conservation Corps (CCC). While his applications are still being processed, Wedel is hoping to spend the next year being a part of America's workforce and helping others around the country while being covered for housing, food, and transport, as well as having a chance at a big scholarship.
Taking a gap year before university provides extra time to wait on making life-defining decisions, such as where exactly to go to university, and what one will study there. Wedel still does not know what he will major in, but he has some ideas and hopes, listing out several universities in Germany that he would like to attend.
"Realistically, I would end up studying math or engineering, but I would like to study history or government, or maybe economics — that stuff I find more interesting," Wedel said.
Even considering everything in his future, this summer, Wedel is most looking forward to going to Germany. As of now, he believes that he will most likely remain in Germany after going to university there.
"I really like to experience new culture and food and I am excited to get to know the people in the cities," Wedel said. "I took a trip to Austria when I was 13, and actually went to Germany when I was 16. Given my experiences in Germany so far, and everything I've read about and heard about, I think I am going to stay. It sounds really nice over there."
Before he leaves CHS in the upcoming weeks and the United States altogether in the next year, Wedel would like to shout out his mentors and friends.
"Frau Tsai has been a huge inspiration and I would not be doing what I am doing if it weren't for her," Wedel said. "Aside from that, my friends Aidan Adams, Gavin Langhorst, Ephram Teran, and Sean Molloy are some of the greatest guys I've known and they've gotten me through some tough times."
The Wolfpacket wishes Wedel good luck in his endeavors, both in the US and across the Atlantic Ocean!
Hello there! Our goal is to provide relavent, engaging journalism for readers of all ages. Your donation will support the student journalists of the Wolfpacket at Claremont High School, and will allow us to purchase equipment, print our monthly issues, and enter in journalism competitions. We appreciate your consideration!
About the Contributor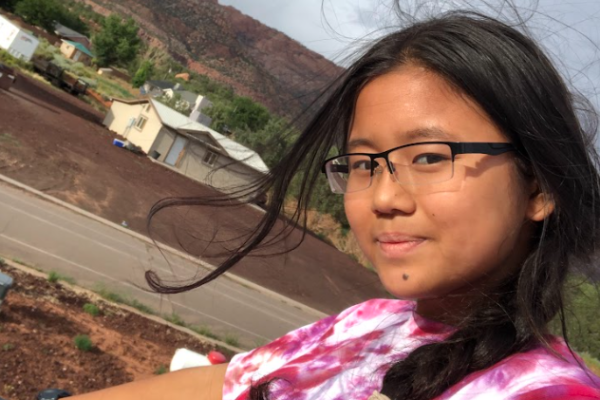 Mayo Ou, Co-Head News Editor
Mayo Ou is a junior at CHS and the Co-Head News Editor, Website Manager, and interim Business Manager for the Wolfpacket in her third year on the staff....